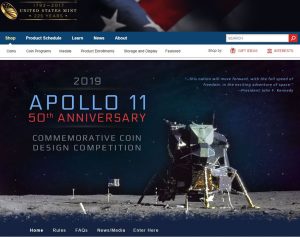 Just a few days remain to submit an application to enter the competition to design Apollo 11 50th Anniversary Commemorative Coins. The event invites artists to design an image that is emblematic of the United States Space Program leading up to the first manned moon landing.
The deadline for Phase One of the contest ends Thursday, June 29. By that time, interested artists must submit their application and a digital portfolio with three to five samples of their work.
In celebration of the moon landing anniversary, the United States Mint in 2019 will produce and sell $5 gold coins, silver dollars, clad half-dollars, and 5-ounce $1 silver coins. These coins will feature a curved shape similar to the 2014 National Baseball Hall of Fame Baseball Commemorative Coins.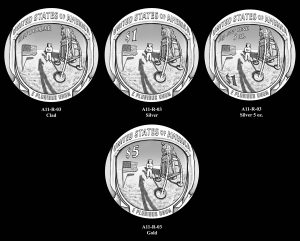 The collection of coins will share the same obverse (heads) and reverse (tails) designs. Artists for the U.S. Mint have already produced candidate designs for the reverses. Those were recently reviewed by the Citizens Coinage Advisory Committee and Commission of Fine Arts. The design competition will decide the coins' obverse design.
Key dates for the contest include:
Applications Open: May 1, 2017
Application Deadline: June 29, 2017
Artists Notified if Selected to Submit a Design: July 31, 2017
Submissions Must Be Received By: September 8, 2017
Winner Announced: 2018
Invited artists will be paid $500 for their work. The winning artist, with their design selected by the Secretary of the Treasury from the juried competition, will receive an additional $5,000 and have their initials appear on the coins.
For complete details, visit the U.S. Mint's online section dedicated to the design competition.