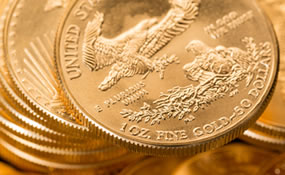 Precious metals futures declined this week with losses ranging from 0.1% for palladium to 2.7% for silver. Silver also ended at its worst price in more than two-and-a-half years.
Gold for December delivery on Friday declined $3.90, or 0.3%, to settle at $1,200.40 an ounce on the Comex division of the New York Mercantile Exchange.
"We remain cautious on gold over the rest of the year, with the Fed on pace to meet its planned rate increases supporting a stronger U.S. dollar," MarketWatch quoted Rob Haworth, senior investment strategist at U.S. Bank. "Growth outside the U.S. is unlikely to deteriorate into recessions this year, limiting safe haven demand for gold."
Gold futures shed 0.5% for a second week in a row after surging three weeks back by 2.5%. In starting the week on Tuesday after an extended U.S. holiday weekend for Labor Day, the yellow metal ended at $1,199.10 an ounce for its weakest close since Aug. 23. Gold prices are 8.3% lower on the year to date.
In looking ahead to next week, Kitco News offers the following forecasts via their Wall Street & Main Street surveys:
"Seventeen market professionals took part in the Wall Street survey. Seven respondents, or 41%, predicted higher prices. There were five votes, or 29%, for both lower and sideways prices.

Meanwhile, 676 people responded to an online poll. A total of 329 respondents, or 49%, called for gold to rise. Another 251, or 37%, predicted gold would fall. The remaining 96, or 14%, see a sideways market."
Elsewhere, silver for December delivery dipped 1.1 cents, or less than 0.1%, to settle at $14.17 an ounce. The settlement is the lowest since Jan. 22, 2016 when the precious metal ended at $14.057 an ounce.
Silver's 2.7% drop this week marked its twelfth weekly loss in thirteen weeks. Silver prices are 17.4% lower on the year.
In PGM futures on Friday and for the week:
October platinum fell $10.50, or 1.3%, to $780.40 an ounce, for a 0.9% weekly decline.

Palladium for December delivery gained $6.70, or 0.7%, to $968.80 an ounce but, as mentioned previously, edged down 0.1% on the week.
Both are also down on the year so far with losses of 16.8% for platinum and 8.7% for palladium.
London Precious Metals Prices
London precious metals prices ended mostly lower on Friday and for the week. In comparing their levels from Thursday PM to Friday PM:
Gold fell $6.25, or 0.5%, to 1,198.90 an ounce.
Silver declined 8 cents, or 0.6%, to $14.185 an ounce.
Platinum dropped $14, or 1.8%, to $776 an ounce.
Palladium rose $4, or 0.4%, to $982 an ounce.
In LBMA weekly results, prices fell 0.3% for gold, 3.2% for silver, and 2% for platinum. They moved up 0.3% for palladium.
US Mint Bullion Sales in 2018
Demand for United States Mint bullion products surged for both gold and silver coins. In headline week-over-week comparisons:
Gold bullion coins jumped by 17,000 ounces this week after rising by 8,000 ounces last week. Splits included 10,500 ounces in American Gold Eagles compared to 6,000 previously and 6,500 ounces in American Gold Buffalos against 2,000 ounces previously.

After climbing by 350,000 ounces last week, American Silver Eagles soared this week by 1,037,500 ounces — a tally that is already higher than the sales in every month this year except for January and August. On Thursday, the U.S. Mint announced that they temporarily sold out of the bullion coin because of "recent increased demand." Elsewhere, sales of the Mint's 5-ounce silver coins remained silent for ten weeks in a row.
Below is a sales breakdown of U.S. Mint bullion products with columns listing the number of coins sold during varying periods.
US Mint Bullion Sales (# of coins)
Friday
Last Week
August
Week / September
2018 Sales
$100 American Eagle 1 Oz Platinum Coin
0
0
0
0
30,000
$50 American Eagle 1 Oz Gold Coin
4,000
4,000
17,500
7,500
144,000
$25 American Eagle 1/2 Oz Gold Coin
0
2,000
4,000
1,000
23,000
$10 American Eagle 1/4 Oz Gold Coin
0
2,000
4,000
2,000
56,000
$5 American Eagle 1/10 Oz Gold Coin
0
5,000
10,000
20,000
180,000
$50 American Buffalo 1 Oz Gold Coin
6,500
2,000
20,000
6,500
104,500
$1 American Eagle 1 Oz Silver Coin
0
350,000
1,530,000
1,037,500
10,275,000
Pictured Rocks 5 Oz Silver Coin
0
0
0
0
30,000
Apostle Islands 5 Oz Silver Coin
0
0
0
0
30,000
Voyageurs 5 Oz Silver Coin
0
0
0
0
30,000