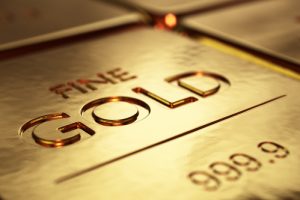 Most precious metals posted gains on Friday, but they all dropped on the week and only silver eked out a win for October. Gold's loss on the month was its third in a row following six straight monthly increases.
Gold for December delivery rose $11.90, or 0.6%, to settle at $1,879.90 an ounce on the Comex division of the New York Mercantile Exchange.
"October has been a surprisingly uneventful month for gold in spite of the volatility that hit equity markets," said Ryan Giannotto, director of research at GraniteShares, which offers the GraniteShares Gold Trust.

"Two countervailing forces on gold were the indefinite postponement of [U.S.] stimulus talks, a negative for gold, countered with the weakening of the dollar through much of the month," he told MarketWatch.
Gold futures logged losses of 1.3% for the week and 0.8% for October. The yellow metal is 23.4% higher on the year to date.
In looking ahead to next week, Kitco News offers the following forecasts via their Wall Street & Main Street surveys:
"This week 18 analysts participated in the survey. A total of 12 voters each, or 67%, called for gold prices to rise next week; meanwhile, two analysts, or 11%, called for lower prices, and four analysts, or 22%, saw gold prices trading sideways…

A total of 1,138 votes were cast this past week. Among those, 588 voters, or 52%, said they were bullish on gold next week. Another 380, or 33%, said they were bearish, while 179 voters, or 15%, were neutral."
Silver for December delivery advanced 28.6 cents, or 1.2%, to settle at $23.646. Silver futures dropped 4.2% this week but still managed to improve by 0.7% in October. They sank 17.8% in September after registering five straight monthly gains. Silver prices are now 32% higher on the year.
In PGM futures on Friday, for the week and for the month:
January platinum dipped $1.10, or 0.1%, to $848.40 an ounce, for losses of 6.4% on the week and 6.7% in October.

Palladium for December delivery tacked on $18.70, or 0.9%, to $2,217.20 an ounce, trimming their weekly and monthly losses to 7.6% and 4.9%, respectively.
The two are divided on the year so far with platinum 13.2% lower and palladium 16.1% higher.
London Precious Metals Prices (LBMA)
London precious metals prices ended mostly higher on Friday and lower for both the week and month. In comparing their levels from Thursday PM to Friday PM:
Gold rose $11.55, or 0.6%, to $1,881.85 an ounce.
Silver jumped 61 cents, or 2.7%, to $23.625 an ounce.
Platinum fell $8, or 0.9%, to $852 an ounce.
Palladium added $22, or 1%, to $2,228 an ounce.
In LBMA weekly results, prices declined 1.1% for gold, 4.6% for silver, 7.1% for platinum and 6.9% for palladium. For the month they fell 0.3% for gold, 0.4% for silver, 3.6% for platinum and 4.6% for palladium.
US Mint Bullion Sales in 2020
United States Mint American Eagle and Buffalo sales in October climbed sharply from September and total significantly higher than a year earlier. In headline comparisons:
American Eagle gold coins increased by 72,000 ounces in October, logging gains of 227.3% from the 22,000 ounces sold in September and 526.1% from the 11,500 ounces sold in October 2019. Year to date American Gold Eagle sales at 709,500 ounces are 410.4% above the 139,000 ounces sold during the same period last year.

American Eagle silver coins rose by 3,397,000 ounces in October, marking increases of 14.8% from September sales of 2,958,500 ounces and 205.9% from the 1,110,500 ounces sold in October 2019. American Silver Eagle sales for the year so far at 24,533,500 coins are 70.4% higher than the 14,400,500 coins sold through the same time last year.

American Buffalo gold coins increased by 19,500 ounces in October compared to 4,500 ounces in September, bringing their year-to-date total to 208,000 ounces. In 2019, September sales of the coins reached 3,000 ounces and their total through the first ten months of last year totaled 55,000 ounces.

American Platinum Eagles last registered gains in April and have year-to-date sales of 56,500 ounces. Last year's issue finished with sales of 40,000 ounces, and also only had sales through the first four months of 2019.
Below is a sales breakdown of U.S. Mint bullion products with columns listing the number of coins sold during varying periods. Products with an asterisk (*) are no longer available.
US Mint Bullion Sales (# of coins)
Friday
Last Week
This Week
August
September
October
2020 Sales
$50 American Eagle 1 Oz Gold Coin
10,000
7,000
18,000
104,000
18,500
64,500
622,000
$25 American Eagle 1/2 Oz Gold Coin
0
2,000
1,000
10,000
3,000
6,000
64,000
$10 American Eagle 1/4 Oz Gold Coin
0
0
4,000
20,000
4,000
8,000
96,000
$5 American Eagle 1/10 Oz Gold Coin
5,000
5,000
15,000
70,000
10,000
25,000
315,000
$50 American Buffalo 1 Oz Gold Coin
500
1,000
5,000
28,000
4,500
19,500
208,000
$1 American Eagle 1 Oz Silver Coin
0
761,000
937,000
4,477,000
2,958,500
3,397,000
24,533,500
America Samoa 5 oz Silver Coin*
0
0
0
0
0
0
45,000
Weir Farm 5 oz Silver Coin*
0
0
0
0
0
0
45,000
Salt River Bay 5 oz Silver Coin*
0
0
0
0
0
0
45,000
Marsh Billings 5 oz Silver Coin*
0
0
0
0
0
0
45,000
Tallgrass Prairie 5 oz Silver Coin*
0
0
0
N/A
45,000
0
45,000
$1 American Eagle 1 Oz Platinum Coin*
0
0
0
0
0
0
56,500