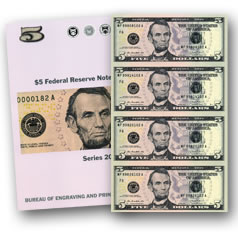 On Thursday, Aug. 13, the Bureau of Engraving and Printing (BEP) began accepting orders for uncut currency sheets of Series 2013 $5 notes from the Federal Reserve Bank of Atlanta.
The $5 notes bear signatures of U.S. Treasury Secretary, Jacob Lew and Treasurer of the United States, Rosie Rios. Product options and prices include:
4 subject sheet for $39,
8 subject sheet for $66,
16 subject sheet for $112, and
32 subject sheet for $212.
Each of these sheets have respective premiums of $19, $26, $32 and $52.
Ordering
Series 2013 $5 Uncut Currency Sheets may be ordered from the BEP website at www.moneyfactorystore.gov.
The Bureau of Engraving and Printing also offers 16 and 32 subject acrylic frames to hold, view and hang the sheets. Pricing is $40 and $60.
About the BEP
The Bureau of Engraving and Printing is the largest producer of security documents in the United States. The bureau prints billions of Federal Reserve Notes for delivery to the Federal Reserve System each year. These notes are produced at facilities in Washington, DC, and Fort Worth, Texas.