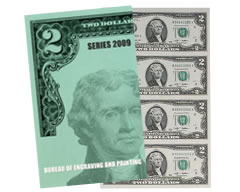 On Thursday, October 18, 2012, the Bureau of Engraving and Printing (BEP) released Series 2009 $2 Uncut Currency Sheets.
Uncut currency sheets feature crisp, uncirculated $2 notes bearing the signatures of U.S. Treasury Secretary Timothy Geithner and U.S. Treasurer Rosie Rios. All the bills have a designation of the Federal Reserve Bank in New York.
Uncut Currency Sheets are "hot off the press" and are a "must-have in any collection and make wonderful gifts for those 'hard to buy for' people on your holiday shopping list," the Bureau of Engraving and Printing promotes on its website.
Sheets of $2 bills are available in varying amounts. BEP options include a 4-subject sheet for $22.50, an 8-subject sheet for $36.00, a 16-subject sheet for $61.00 and a 32-subject sheet for $102.00. Respective premiums for each come to $14.50, $20, $29 and $38.
Series 2009 $2 Uncut Currency Sheets may be purchased directly from the BEP online store at:
http://www.moneyfactorystore.gov/uncutcurrency.aspx
According to the BEP's website, its products are tax-free and ship for free, although it states fees may apply in "special situations." Delivery may take between three and four weeks.
Also available from the Bureau of Engraving and Printing are 16- and 32-subject acrylic frames to hold and hang the notes. The frame enables viewing of both sides of the $2 bills. Pricing is $32 for the 16-subject frame and $60.00 for the 32-subject frame.
About the BEP
The Bureau of Engraving and Printing is the largest producer of security documents in the United States. The bureau prints billions of Federal Reserve Notes for delivery to the Federal Reserve System each year. These notes are produced at facilities in Washington, DC, and Fort Worth, Texas.