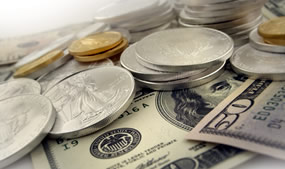 Gold and silver futures declined for a second straight session Thursday. Silver logged a fresh 16-week low, deepening its loss for the month of November. Gold, meanwhile, ended at an about 1-1/2-week low but still eked out a monthly gain.
Gold for February delivery declined $9.50, or 0.7%, to settle at $1,276.70 an ounce on the Comex division of the New York Mercantile Exchange. The close is the weakest since Nov. 20.
"A strong rally in the U.S. stock market that propelled the stock indexes to record highs Thursday pushed gold and silver prices lower," Jim Wyckoff, a senior analyst at Kitco Metals Inc., said in a report. "The metals ended the futures day session at or near their lowest price levels of the month."
Gold futures edged up 0.5% in November after losses of 1.1% in October and 2.8% September. The yellow metal rallied a combined 5.7% in the five months of straight gains prior to September, and is still 10.9% higher so far this year.
Silver for March delivery shed 8.7 cents, or 0.5%, to settle at $16.474 an ounce. The settlement is the lowest since Aug. 8, when prices ended at $16.389 an ounce. Silver futures lost 1.3% for the month after inching up 0.1% last month. They are 3% higher on the year to date.
In rounding out precious metals prices on Thursday and for November:
January platinum added $1.30, or 0.1%, to $942.50 an ounce, for a 2.5% monthly increase.

Palladium for March delivery fell $4.95, or 0.5%, to $1,003.55 an ounce, but also advanced 2.5% on the month.
Both metals are higher for the year so far with respective increases of 4.1% and 46.9%.
London Precious Metals Prices
London precious metals prices ended lower Thursday but mostly higher for the month. In comparing earlier fixed London prices from Wednesday PM to Thursday PM:
Gold declined $3.65, or 0.3%, to 1,280.20 an ounce.
Silver fell 32.5 cents, or 1.9%, to $16.57 an ounce.
Platinum declined $5, or 0.5%, to $940 an ounce.
Palladium fell $1, or 0.4%, to $1,010 an ounce.
In November, silver dropped 1.5% while other London bullion prices posted gains totaling 0.8% for gold, 2.7% for platinum, and 3.4% for palladium.
They have year-to-date gains of 10.5% for gold, 2% for silver, 3.6% for platinum and 49.4% for palladium.
US Mint Bullion Sales in 2017
Demand for United States Mint bullion products slowed sharply this month, and similar to other months in 2017, levels were lower against November 2016. In headline bullion coin comparisons:
American Eagle gold coins advanced by 12,000 ounces in November, logging declines of 22.6% from the 15,500 ounces in October and 91.9% from the 147,500 ounces in November 2016. Year to date sales at 259,500 ounces are 72.9% lower than the 956,000 ounces moved during the first eleven months of last year.

American Eagle silver coins climbed by 385,000 ounces for the lowest monthly total since December 2016. The tally represents declines of 63% from the 1,040,000 ounces in October and 87.4% from the 3,061,000 ounces in November of last year. 2017 Silver Eagle sales at 17,323,500 are down by more than half, 53.8%, from the 37,461,500 delivered in the January to November period of 2016.

American Buffalo gold coins advanced by 2,000 ounces in November, registering declines of 71.4% from the 7,000 ounces in October and 93.2% from the 29,500 ounces in November 2016. Year to date sales at 85,500 ounces are 58.7% lower than the 207,000 ounces sold during the same months last year.

Sales of America the Beautiful Five Ounce Silver Bullion Coins climbed by 231,000 ounces with all sales from the newest piece honoring George Rogers Clark National Historical Park in Indiana. Sales were muted in the two previous months. Five-ounce coin sales for the year so far at 737,000 ounces are 48.3% lower than the 1,425,000 ounces sold through the same months in 2016.
Below is a sales breakdown of U.S. bullion products with columns listing the number of coins sold during varying periods. Products with an asterisk (*) are no longer available.
US Mint Bullion Sales (# of coins)
Thursday
Last Week
This Week
October
November
YTD
$100 American Eagle 1 Oz Platinum Coin
0
0
0
0
0
20,000
$25 American Eagle 1 Oz Palladium Coin*
0
0
0
0
0
15,000
$50 American Eagle 1 Oz Gold Coin
0
2,000
2,500
11,000
9,500
190,500
$25 American Eagle 1/2 Oz Gold Coin
0
0
2,000
2,000
2,000
34,000
$10 American Eagle 1/4 Oz Gold Coin
0
0
2,000
2,000
2,000
60,000
$5 American Eagle 1/10 Oz Gold Coin
0
0
0
30,000
10,000
370,000
$50 American Buffalo 1 Oz Gold Coin
0
0
1,000
7,000
2,000
85,500
$1 American Eagle 1 Oz Silver Coin
0
30,000
90,000
1,040,000
385,000
17,323,500
2017 Effigy Mounds 5 Oz Silver Coin
0
0
0
0
0
35,000
2017 Frederick Douglass 5 Oz Silver Coin
0
0
0
0
0
20,000
2017 Ozark Riverways 5 Oz Silver Coin
0
0
0
0
0
20,000
2017 Ellis Island 5 Oz Silver Coin*
0
0
0
0
0
40,000
2017 George Rogers Clark 5 Oz Silver Coin
0
1,500
0
N/A
32,400
32,400