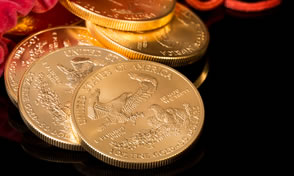 Gold snapped a two-session winning streak on Friday, dragging prices down more for the week.
Gold for August delivery shed $7.50, or 0.6%, to settle at $1,309.40 an ounce on the Comex division of the New York Mercantile Exchange.
"In general what we have seen it's a little bit of buying around geopolitical events, which has been supporting prices but is often short-lived," Reuters quoted Credit Suisse analyst Karim Cherif. "But overall, investors are not worried about substantial risks of currency weakness or higher inflation and that is ultimately keeping gold in tight ranges for long periods of time."
On Thursday, gold surged by more than $17 as investors poured into safe-havens following news of the Malaysia airlines disaster.
Gold prices fell 2.1% from a week ago, thanks in large part to a near $31 drop on Monday — the biggest fall of 2014. Still, the precious metal has advanced $107.10, or 8.9%, since ending 2013 at $1,202.30 an ounce.
Gold Outlook
Participants in the latest Kitco News survey are mixed on where gold is headed next week. Eleven expect prices to rise, 9 see prices lower and 5 see prices trading sideways or are neutral. Kitco News reports that:
"Those who see higher prices say geopolitical concerns will keep gold bid… Those who see weaker prices took an opposite view of gold's reaction to geopolitical worries… A few participants said gold prices have little short-term trend right now, so they expected choppy, range-bound trade…"
Kitco gold survey results last week were bullish with expectation splits of 17 up, 6 down and 2 sideways or neutral.
Silver, Platinum and Palladium Futures
Declining in four of the five sessions this week, silver for September delivery dropped 25 cents, or 1.2%, to $20.89 an ounce. Silver tumbled 2.7% from a week ago and that trimmed its year-to-date gain to 7.8%.
In rounding out the precious metals complex:
October platinum declined $13.80, or 0.9%, to $1,489.90 an ounce. Prices fell 1.6% on the week.

Palladium for September delivery dipped $3.60, or 0.4%, to $881.50 an ounce, but the PGM advanced 0.7% on the week.
For the year so far, platinum has gained 8.5% while palladium has rallied 22.7%.
London Fix Precious Metals
London precious metals fixings logged narrow changes on Friday and, like bullion futures in New York, all but palladium dropped on the week. When comparing the London bullion fix prices from Thursday PM to Friday PM:
Gold added $4.75, or 0.4%, to $1,307.25 an ounce,
Silver rose 16 cents, or 0.8%, to $20.94 an ounce,
Platinum was unchanged at $1,497 an ounce, and
Palladium slipped $5, or 0.6%, to $881 an ounce
Palladium ended 1.6% higher than a week ago. Losing percentages for the other London fixings tallied to 2.1% for gold, 2.2% for silver and 0.6% for platinum.
US Mint Bullion Sales in July
United States Mint bullion coins rallied from a week ago with sales 93.3% higher for gold coins and 64.1% higher for silver coins. In the latest week-over-week comparisons:
Gold coin sales rose 14,500 ounces after advancing 7,500 ounces last week. Splits were 13,000 ounces in American Gold Eagles versus 5,500 ounces previously and 1,500 ounces in American Gold Buffalos after 2,000 ounces previously.

American Silver Eagles gained 590,000 after the past eight smaller-than-typical weekly gains of 360,000; 395,000; 447,000; 580,000; 675,000; 670,000; 300,000; and 426,500. Orders this week did top the year-to-date milestone of 25 million to hold at 25,153,500. Last year when the annual American Silver Eagle sales record was set at above 42.6 million, the coins hit 27,575,000 by July 18, 2013. Until several weeks ago, sales this year were moving faster than last.

America the Beautiful Five Ounce Silver Bullion Coins climbed by 1,000 coins, or 5,000 ounces, doubling last week totals.

Sales of American Platinum Eagles were flat for a fifth straight week. The coins are now in their 17th full week of release after a five-year hiatus.
Below is a sales breakdown of U.S. Mint bullion products with columns listing the number of bullion coins sold on Friday, last week, this week so far, last month, the month to date, and the year to date.
American Eagle and Buffalo Bullion Sales (# of coins)
Friday Sales
Sales Last Week
Current Sales Week
June Sales
July Sales
YTD Sales
$100 American Platinum Eagle Bullion Coins
0
0
0
700
0
12,900
$50 American Eagle Bullion Gold Coins
1,000
5,500
10,500
43,000
21,500
220,000
$25 American Eagle Bullion Gold Coins
0
0
0
2,000
0
27,000
$10 American Eagle Bullion Gold Coins
0
0
4,000
4,000
4,000
76,000
$5 American Eagle Bullion Gold Coins
0
0
15,000
35,000
20,000
380,000
$50 American Buffalo Bullion Gold Coins
0
2,000
1,500
16,000
4,000
115,500
$1 American Eagle Silver Bullion Coins
30,000
360,000
590,000
2,692,000
1,025,000
25,153,500
Great Smoky Mountains National Park 5 Oz Silver Bullion Coins
0
0
0
2,000
0
29,000
Shenandoah National Park 5 Oz Silver Bullion Coins
0
0
0
900
0
20,000
Arches National Park 5 Oz Silver Bullion Coins
0
500
1,000
18,500
1,500
20,000