The Perth Mint of Australia announced early their line-up of new collector coins, giving shoppers a few extra days to find those last-minute Christmas gifts. The Mint's latest collectibles celebrate the Chinese New Year and other special occasions.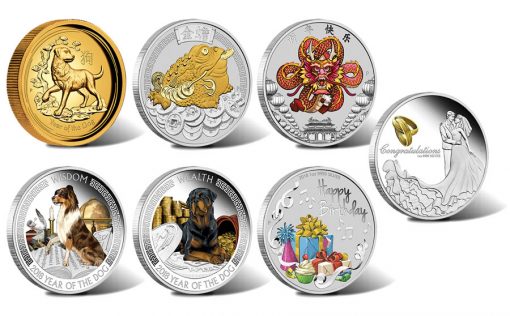 Among releases for December are Lunar Year of the Dog coins, a Chinese New Year coin, a gilded Money Toad coin and coins for weddings and birthdays.
Images and summary information for the December collector coins is available below.
2018 Wedding 1 oz Silver Proof Coin
Celebrating the newlyweds of 2018, The Perth Mint is now offering a 1oz 99.99% pure silver coin emblematic of the special occasion. Its reverse (tails side) shows a bride and a groom with the bride's dress flowing around the design. Two golden rings are added in a special intertwined image.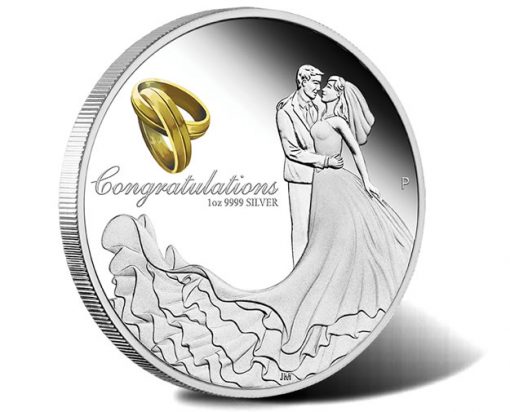 This coin is struck on a mint-to-order basis. It ships in a white glossy box with a heart-shaped crystal on the lid.
2018 Happy Birthday 1 oz Silver Coin
Birthdays are not forgotten by The Perth Mint with its 2018-dated Happy Birthday coin. Appearing on the coin's reverse are design elements of a birthday celebration to include musical notes, wrapped birthday gifts, birthday streamers, a party hat, and a cake.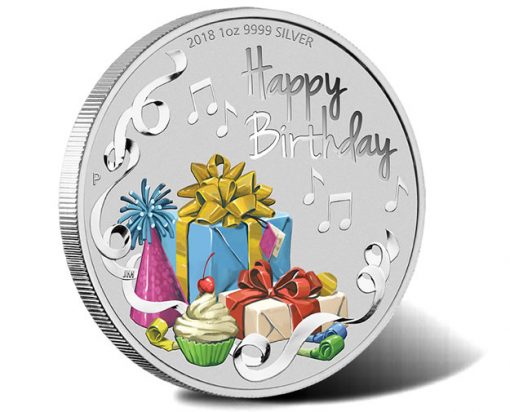 Like the Wedding coin, these are produced on a mint-to-order basis and are struck in 1oz of 99.99% fine silver. The coin comes attached to an illustrated display card that is designed for gift-giving.
2018 Chinese New Year 1 oz Silver Coin
Chinese New Year is a celebrated event and a time for giving. This 1oz 99.99% fine silver coin is well designed for both. Its reverse shows a colorful dragon in the shape of a Chinese knot. A traditional temple and Chinese lanterns appear below the dragon. Above it is the inscription 'Happy New Year' in Chinese characters.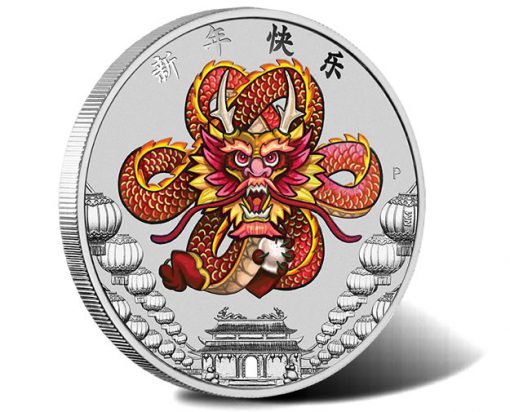 A limited mintage of 5,000 coins is available. Each is struck as Tuvalu legal tender.
2018 Money Toad 1 oz Silver Gilded Coin
Emblematic of the flow of money and the protection of wealth, the Chinese symbol of a money toad (Jin Chan) is featured on the reverse of this 1oz 99.99% pure silver coin. The toad, sitting atop a pile of coins, is gilded in 24 karat gold and is holding a coin in its mouth.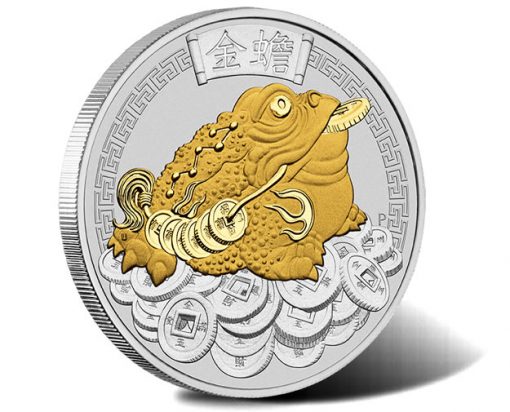 No more than 5,000 of the Money Toad coins will be released. Each ships in a clear latex display case with a black frame. This coin is also Tuvalu legal tender.
Year of the Dog Gold Proof High Relief Coin
The eleventh animal in the Chinese zodiac appears on the reverse of this 1oz 99.9% gold issue. A Labrador Retriever is seen standing on rocks with a stylized pine tree in the background. Inscriptions include 'Year of the Dog' and the Chinese character for 'dog'.
This high-relief coin has a very limited mintage of 388. It is housed in a classed wooden lid display case and ships with a themed shipper and a certificate of authenticity.
Year of the Dog Wealth & Wisdom 2018 Silver Proof Two-Coin Set
Colored depictions of a Rottweiler and a Border collie grace the reverses of these two coins which are sold within a set. Representing wealth, the Rottweiler is shown lying on a large coin with a stack of gold coins behind it.
The Border Collie is surrounded by traditional symbols of knowledge to represent wisdom.
Both are Tuvalu legal pieces minted in 1oz 99.99% pure silver. They ship in the same Perth Mint display case. No more than 1,500 will be sold.
Ordering
The Perth Mint of Australia collector coins may be ordered directly from www.perthmint.com.au. You may also follow this affiliate link to see the Mint's new releases.