New collector coins from the Perth Mint of Australia are emblematic of the Chinese zodiac and New Year.
Serving as the premier issue is a high-relief Year of the Rooster Gold Coin. It is joined by the Wealth & Wisdom Silver Two-Coin Set, a Year of the Rooster Silver Proof Four-Coin Set, and a Chinese New Year Dragon Silver Coin.
Brief information on these Perth Mint products for December is offered below:
Year of the Rooster 2017 1oz Gold Proof High Relief Coin
A single rooster appears on the reverse of this new coin, which is struck in an ounce of 99.99% pure gold. The design is featured in high relief as is the obverse (heads side) effigy of Queen Elizabeth II.
The Perth Mint indicates that no more than 388 will be sold to the public. Initially available in Australia only, the coin ships in a wooden lid display case along with an illustrated shipper and a numbered certificate of authenticity. This coin is Australian legal tender.
Wealth & Wisdom 2017 1oz Silver Proof Two-Coin Set
Issued as part of the Lunar Good Fortune Series, the Perth Mint offers the colorful Wealth and Wisdom coins. Reverses of the two 99.99% pure silver coins depict colorful roosters with one coin representing wealth and the other symbolizing wisdom.
The wealth coin depicts a representation of a rooster standing atop a stack of coins and holding a string of bronze 'cash' coins.
Signifying age and wisdom, the wisdom coin offers a representation of an aged rooster in a Chinese water garden sitting on a scholar's rock. Both are Tuvalu legal tender issues.
Available worldwide, the two-coin set is limited to 1,500. A colorful illustrated shipper accompanies the set which is presented in a classic display case and is accompanied by a numbered certificate of authenticity.
Year of the Rooster 2017 1oz Silver Proof Four-Coin Set
The Lunar Calendar Series expands further with this four-coin set, with each in an ounce of 99.99% pure silver and rectangular in shape.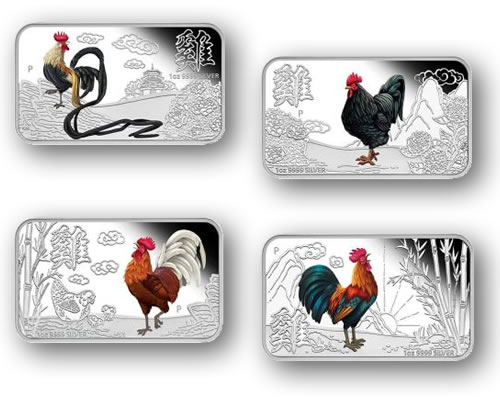 The set "showcases four different coloured rooster designs, in a setting that runs through all coins when placed together," the Perth Mint promotes.
Mintage for the set is capped at 3,000. The four coins are Tuvalu legal tender.
Chinese New Year Dragon 2017 1oz Silver Proof Coin
The Chinese New Year is an important holiday for many around the world. This one-ounce, 99.99% pure silver coin celebrates the event with a reverse design showcasing a single dragon draped around a red lantern and red banner, which offers the Chinese characters for 'Happy New Year.'
A mintage of 5,000 is set for this Tuvalu legal tender coin. Coins are housed in a clear latex display case with a black frame and packaged in a themed shipper. Each is accompanied by a numbered certificate.
Ordering
Additional information, ordering options and current pricing on the coins are available on the Perth Mint's website at www.perthmint.com.au. Here is
an affiliate link to the Mint's new releases.