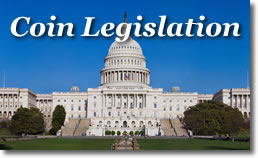 New legislation introduced in the US House of Representatives calls for a competition-designed commemorative coin celebrating the centennial of America's entrance into World War I.
Named the World War I American Veterans Centennial Commemorative Coin Act and numbered H.R. 4107, the bill seeks up to 350,000 $1 silver coins in year 2017. The United States entered World War I by declaring war against Germany on April 6, 1917.
"While other great conflicts, including the Civil War, World War II, the Korean War, and the Vietnam War, have all been memorialized on United States commemorative coins, there currently exists no coin to honor the brave veterans of World War I," the legislation states.
Introduced by Rep. Doug Lamborn [R-CO5] on Wednesday, February 29, the bill offers a unique approach in creating designs for a 100th Anniversary World War I silver dollar. Instead of design candidates drawn up by U.S. Mint artists that are then reviewed, H.R. 4107 would authorize a design competition with the winner selected by an expert jury chaired by the U.S. Treasury Secretary and consisting of 3 members from the Citizens Coinage Advisory Committee (CCAC). This is similar to the language within the recent House-passed National Baseball Hall of Fame Commemorative Coin Act.
Each commemorative coin would be minted in uncirculated and proof qualities and composed of 90% silver and 10% copper. These are typical requirements of modern commemoratives, as are the specifications of each having a weight of 26.73 grams, diameter of 1.5 inches and inscriptions of 'Liberty', 'In God We Trust', 'United States of America', and 'E Pluribus Unum'. H.R. 4107 specifically states
The silver dollars would be sold for one calendar year with January 1, 2017 the earliest possible release date. Each coin sold would include a surcharge of $10 paid to the World War I Memorial Foundation (www.wwimemorial.org) whose stated mission is to advocate and raise funds for the restoration and re-dedication of the DC War Memorial as a national World War I Memorial.
"The DC War Memorial is located on the Mall in Washington near the national World War II, Korean War and Vietnam War memorials. Re-dedication of the DC War Memorial as a national memorial would complete the quartet of memorials to Americans who served in the four great conflicts of the 20th century," states the World War I Memorial Foundation website.
Frank Buckles was an honorary chairman of the World War I Memorial Foundation. He was the last surviving American veteran of World War I, dying on February 27, 2011.
For the World War I American Veterans Centennial Commemorative Coin Act to become law, it must pass in the House, Senate and get signed by the President of the United States. H.R. 4107 currently has 5 cosponsors and has been referred to the House Committee on Financial Services.