Heritage will present rarities in U.S. coins, U.S. currency and World and Ancient coins at auctions held Aug. 2 to 3 in conjunction with the American Numismatic Association World's Fair of Money in Denver.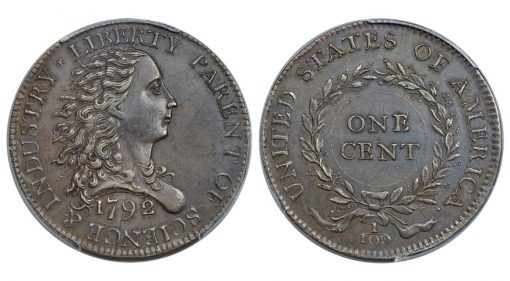 Highlighting a stellar group of Colonial coins, the prohibitively rare 1792 Parmelee Birch Cent crosses the block in Heritage's U.S. Coins Platinum Night session.
Other U.S. coin auction highlights include:
A 1652 New England Shilling XF45, PCGS Secure, CAC, is notable for being one of just eight collectible examples in private hands.

A 1652 Willow Tree Sixpence, Noe 1-A, W-130, Salmon 1-A, R.6, VF20 PCGS, appears from the Don Willis Collection of U.S. Colonial Coinage.

A selection of high-proof gold ranges from an 1843 $2 1/2 PR65 Deep Cameo, PCGS – a rare, early proof and one of only five examples traced – to a 1900 $20 PR66+ Ultra Cameo, NGC. CAC, the finest certified Ultra Cameo example known to exist.

A 1943 CENT Struck on a Bronze Planchet, MS62 Brown, NGC, which is one of just 10 to 15 specimens known to exist.

An 1851 $50 RE Humbert Fifty Dollar, Reeded Edge, 887 Thous. MS63, NGC, (the finest certified at PCGS).

An 1849 $5 Oregon Exchange Co. Five Dollar AU50 NGC. K-1, R.5., the rare "Beaver Money" example made famous during the great California Gold Rush.
Heritage's ANA World Coins & Ancient Coins Auction features a number of extraordinary ancients, including one of only four known Year 4 Quarter-Shekel, NGC (photo certificate) Choice AU 4/5-4/5 – by far the rarest of the silver denominations issued by the Jewish War insurgents.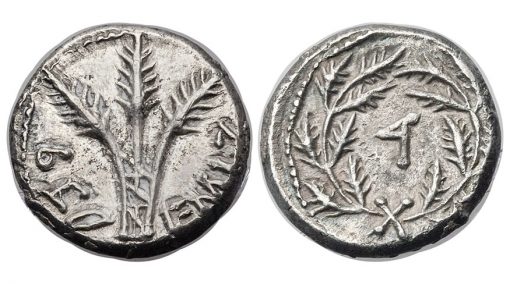 Other World & Ancient coin auction highlights include:
An extremely rare and possibly unique Hadrian (AD 117-138). AV aureus (20mm, 7.12 gm, 6h). NGC Choice AU ★ 5/5 – 5/5.

A fabulous William III gold "Fine Work" 5 Guineas 1701 MS64, NGC, in an exceptionally rare state of preservation.

A first-year gem proof Meiji gold Proof 20 Yen Year 3 (1870) PR66 Cameo NGC.

An early rarity from the Rio Mint: A João V 6400 Reis 1728/7-R AU58 NGC, displaying bold legends and date to make its auction debut at Heritage.
Heritage's Platinum Currency Auction will present the finest known 1882 $1,000 Gold Certificate, PCGS, Very Fine 35.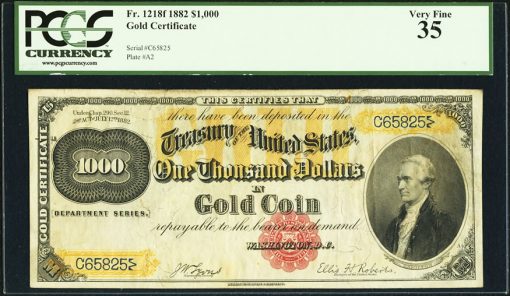 The specimen is one of only 96,000 examples that were printed, and far fewer survived following the redemption rate ordered under the Gold Reserve Act of 1934.
Other U.S. currency auction highlights include:
A stunning gem rainbow 1869 $20 Legal Tender, PCGS, Gem New 65PPQ, is centered perfectly and displays a gorgeous deep red seal, black design details, blue serial numbers and a deep swath of anti-counterfeiting blue ink and colored fibers cascading through the design.

The finest graded 1882 $20 Gold Certificate, PMG, Superb Gem, Uncirculated 67 EPQ, known to exist, produced for just six years before the famed "Technicolor" $20 came into favor.

A wide-margined, 1869 $50 Legal Tender, PCGS, Very Fine 35, from The Yuri Solovey Collection. The last example offered by Heritage nearly two years ago sold for more than $223,000.

The last 1861 $500 Confederate Bill issued in Montgomery, weeks before the first shots were fired on Fort Sumter.
Heritage Auctions is the largest fine art and collectibles auction house founded in the United States, and the world's largest collectibles auctioneer. To learn more about the company, visit HA.com.