A glow-in-the-dark coin celebrating captains from the Star Trek™ franchise is selling quickly. Buyers claimed 81% of them by Friday morning, marking an overnight increase of 5%.
Struck by the Royal Canadian Mint in 2 ounces of 99.99% pure silver, the collector coin's mintage is limited to only 5,000.
In daylight, the silver coin's reverse (tails side) features portraits of the five captains of Star Trek, from The Original Series to Enterprise. From left to right, there's:
Benjamin Sisko (played by Avery Brooks in Star Trek™: Deep Space Nine from 1993-1999),
Jonathan Archer (portrayed by Scott Bakula in Star Trek™: Enterprise from 2001 to 2005),
James T. Kirk (played by Canadian actor William Shatner in Star Trek™: The Original Series from 1966 to 1969),
Jean-Luc Picard (portrayed by Sir Patrick Stewart in Star Trek™: The Next Generation from 1987 to 1994), and
Kathryn Janeway (played by Kate Mulgrew in Star Trek™: Voyager from 1995 to 2001).
Their portraits are positioned around an engraved Delta Shield Insignia and against a space background. Surrounding inscriptions include CANADA, STAR TREK and the year 2017.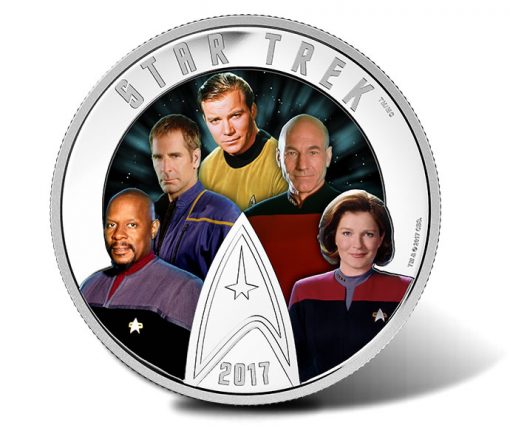 When the coin's reverse is viewed in the dark, the scene changes to show a glowing image of the U.S.S. Enterprise in flight, along with the iconic Delta Shield Insignia.
Obverses (heads side) offer the Susanna Blunt effigy of Queen Elizabeth II with inscriptions of ELIZABETH II, CANADA, D G REGINA, 30 DOLLARS, and SB for the artist's initials.
Royal Canadian Mint-provided coin specifications include:
Mintage: 5,000
Composition: 99.99% pure silver
Finish: proof
Weight (g): 62.67
Diameter (mm): 54
Edge: serrated
Certificate: serialized
Face value: 30 dollars
Obverse Artist: Susanna Blunt
Ordering
Priced at CAD $194.95, or about US $143, the 2017 $30 Star Trek™: Five Captains 2 oz. Silver Coin is available from the Royal Canadian Mint at mint.ca. An affiliate link to the coin's product page is right here.
Each coin arrives encapsulated and presented in a premium graphic box.