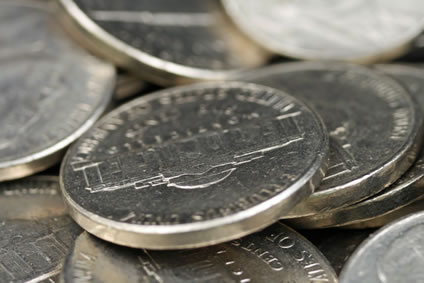 Legislation reintroduced in the U.S. Senate seeks to save taxpayers money by suspending production of the 1-cent coin, changing the 5-cent coin's composition, and replacing $1 notes with $1 coins.
Numbered S.759, the Currency Optimization, Innovation and National Savings (COINS) Act of 2017 was introduced by Sen. John McCain and Sen. Enzi on March 29, 2017.
"With our country facing $20 trillion in debt, Congress must act to protect the American taxpayer," Senator McCain said in a statement. "By reforming and modernizing America's outdated currency system, this commonsense bill would bring about billions in savings without raising taxes."
10-Year Suspension of 1-Cent Coin
In the U.S. Mint's FY 2016 Annual Report, the agency said that it costs 1.5 cents to strike and distribute each 1-cent coin. The nation's smallest denominated coin has been a money-loser for 11 straight years.
The COINS Act would suspend their production for circulation for 10 years and pave the way for their elimination by requiring a GAO study to determine the effect of the suspension and whether it should remain in place.
The legislation carves out an exception to the suspension, enabling the coin's production to fulfill the needs of numismatic collectors.
Change 5c Composition
The same U.S. Mint annual report said it costs 7.44 cents to produce and distribute every 5-cent coin. Similar to the cent, the nickel has lost money for 11 years in a row.
Five-cent coins are composed of 25% nickel with the balance copper. The COINS Act directs the U.S. Mint to make them from 80% copper and 20% nickel, and provides a provision to increase their copper content further.
Before any composition changes could happen, there are requirements that they must save taxpayers money and have no impact on the public or on stakeholders (like vending machine companies).
Replace $1 Notes with $1 Coins
Finally, the COINS Act would replace $1 Federal Reserve notes with longer lasting $1 coins.
"It is well-documented that replacing the dollar bill with a dollar coin would save taxpayers billions of dollars, and also be good for consumers, businesses, and the environment," said Tom Schatz, President of the Council for Citizens Against Government Waste (CCAGW).
According to a GAO study published in 2011, median lifespans are 40 months for notes and 34 years for coins. The same report estimates costs at 2.7 cents per note compared to 15 cents per coin. The GAO's analysis concluded that replacing the $1 note with a $1 coin could save taxpayers approximately $5.5 billion over 30 years.
"The Council Citizens Against Government Waste has been advocating for the dollar coin for many years and we welcome the introduction of the COINS Act by Senators McCain and Enzi," Schatz added.
Beginning 2 years after its enactment, $1 notes would no longer be printed aside from numismatic purposes, and Federal Reserve Banks would remove them from circulation for destruction. They would remain legal tender currency.
Bill's Status
S.759 has been refereed to Senate Committee on Banking, Housing and Urban Affairs.
For it to become law, it must pass in the Senate and House and get signed by the President. Similar versions of the bill have been introduced in prior sessions of Congress but they died from inaction.