The United States Mint wants your help, according to a press release it issued Monday.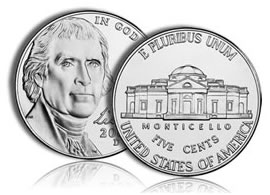 The US Mint is seeking input from interested parties on what it should consider as it moves ahead in its Congressionally mandated look into alternative metals for use in the production of circulating coinage.
Congress ordered the review under the Coin Modernization, Oversight, and Continuity Act of 2010 (Public Law 111-302) which was signed into law by President Barack Obama on December 14, 2010.
The Act requires the Treasury Secretary (and by extension the US Mint) to create a report within two years that addresses the production costs of each circulating coin, as well as the cost trend. It further directs that detailed recommendations must be provided on any possible changes in metallic content of the coins that could positively affect those costs.
However, in the press release, the Mint states that at this time it is not soliciting in any specific metallic recommendations, only the factors that it should include in considering them. According to the US Mint:
"These factors include, but are not limited to, the effect of new metallic coinage materials on the current suppliers of coinage materials; the acceptability of new metallic coinage materials, including physical, chemical, metallurgical and technical characteristics; metallic material, fabrication, minting, and distribution costs; metallic material availability and sources of raw metals; coinability; durability; sorting, handling, packaging and vending machines; appearance; risks to the environment and public safety; resistance to counterfeiting; commercial and public acceptance; and any other factors considered to be appropriate and in the public interest."
The US Mint is constrained in its final recommendations to Congress by several terms outlined in the previously mentioned Coin Modernization Act. This includes the consideration of how a change would impact current US Mint metal suppliers as well as how coinage containing a different metallic content would be introduced and accepted for use in everyday commerce, including vending machine use, banks and even American-owned manufacturers of commercial coin processing equipment.
Public comments must be submitted on or before April 4, 2011. Interested parties may submit written comments by any of the following methods:
E-mail:
coinmaterials@usmint.treas.gov
Fax:
(202) 756-6500
Mail:
New Coin Materials Comments
Mail Stop: Manufacturing 6 North
United States Mint
801 Ninth Street, N.W.
Washington D.C. 20220
Hand Delivery/Courier: Same as mail address.
The steps the United States Mint has undertaken to create this report are just the first in what will likely be a long process before the report is due in late 2012. However, it does establish a process which will likely be followed in the coming years as it continues to research the matter and offer recommendations to Congress.