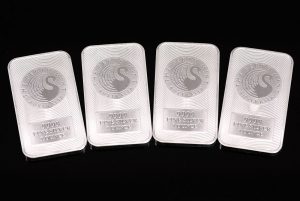 Demand for Australian bullion coins and bars was divided in March from February with gold sales stronger and silver sales weaker, according to Perth Mint figures. In contrast, gold sales ended lower and silver sales finished higher in first quarter 2018 against the same period last year.
March gains registered against divided precious metals with LBMA prices for the month up 0.5% for gold but down 1% for silver. As for the quarter, gold advanced 1% while silver sank 3.5%.
Bullion Sales in March & First Quarter 2018
Perth Mint sales of gold coins and gold bars reached 29,883 ounces last month, registering increases of 12.9% from February and 34.4% from March 2017.
First quarter or year to date sales at 93,530 ounces were 22.2% lower than the 120,234 ounces delivered during the first three months of 2017.
March sales of silver coins and silver bars totaled 975,921 ounces, slipping 1.7% from February but rising 36.3% from a year ago March.
Silver sales accumulated to 3,036,236 ounces in the first quarter for a 24% increase over last year's starting three-month total of 2,449,503 ounces.
Perth Mint Gold and Silver Sales by Month
Below is a monthly summary of Perth Mint bullion sales from March 2017 to March 2018. The figures show monthly ounces of gold and silver shipped as minted products by The Perth Mint to wholesale and retail customers worldwide. It excludes sales of cast bars and other Group activities including sales of allocated/unallocated precious metal for storage by the Depository.
Perth Mint Bullion Sales (in troy ounces)
Silver
Gold
March 2018
975,921
29,883
February 2018
992,954
26,473
January 2018
1,067,361
37,174
December 2017
874,437
27,009
November 2017
544,436
23,901
October 2017
999,425
44,618
September 2017
697,849
46,415
August 2017
392,091
23,130
July 2017
1,167,963
23,675
June 2017
1,215,071
19,259
May 2017
826,656
29,679
April 2017
468,977
10,490
March 2017
716,283
22,232