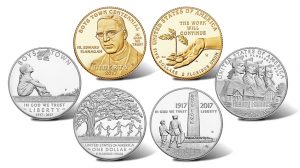 Next week, on Thursday, Mar. 9, officials from the United States Mint and Boys Town will formally introduce coins from the Mint honoring the centennial founding of Boys Town.
Sales of the commemorative coins — up to 50,000 $5 gold coins; 350,000 silver dollars; and 300,000 clad half-dollars — will begin on the same day.
Most coin release ceremonies last less than an hour. The free event's location details follow:
Date: Thursday, March 9, 2017
Time: 2 p.m. (ET)
Location:
The Liaison Capitol Hill
Metropolitan Ballroom 
415 New Jersey Ave NW 
Washington, DC 20001
The following map shows the hotel's location:
Where to Buy
Boys Town Commemorative Coins will be available for purchase after the ceremony, and they will also be online the same day starting at noon ET from catalog.usmint.gov.
Product options include proof and uncirculated versions of each coin as well as a three-coin proof set. (Read about options and see coin images.)
Their introductory prices will range from $20.95 to the mid to upper $400s. Prices for the more expensive products will depend on the trending value of gold. Surcharges collected from these coins are authorized to be paid to Boys Town to carry out its mission of caring for and assisting children and families in underserved communities across America.
Founded by Father Edward Flanagan in 1917, Boys Town is one of the largest non-profit organizations in the country, dedicated to serving at-risk children and families of all backgrounds and religions.