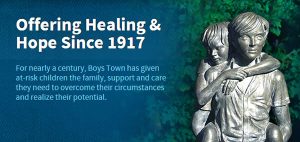 In a week from today, on Aug. 23, official from Boys Town and the United States Mint will officially introduce designs for 2017 coins celebrating the 100th anniversary of the Boys Town (www.boystown.org).
The Boys Town Centennial Commemorative Coin Act, Public Law 114-30, calls for up to 50,000 $5 gold coins, no more than 350,000 silver dollars and a maximum of 300,000 clad half-dollars to celebrate the centennial founding of the organization, one of the largest nonprofit child care agencies in the United States.
The unveiling ceremony is free and open to the public. Attending officials will include:
Rhett Jeppson, Principal Deputy Director, United States Mint
Cordell Cade, Mayor of Boys Town
Kymani Bell, Vice Mayor of Boys Town
Dan Daly, EVP, Director of Youth Care, Boys Town
Jerry Davis, VP of Advocacy, Boys Town
Jeppson will speak during the ceremony, and Boys Town youth will perform.
Coin design ceremonies tend to last from about 30 to 40 minutes. The event's time and location details are:
Date: Tuesday, August 23, 2016
Time: 10:00 a.m. (CT)
Location:
Boys Town Music Hall
13715 Flanagan Blvd.
Boys Town, NE 68010
The United States Mint will sell the commemorative coins beginning in 2017. Pricing and product options will be announced at a later time.
Public Law 114-30 requires the collection of surcharges on the sale of each, including $35 per gold coin, $10 for each silver dollar and $5 per clad half-dollar. The funds will be paid to Boys Town to carry out its mission.