The Royal Canadian Mint introduced its Endangered Animal Cutout series of large-diameter coins with last week's release of the 2017 $30 Woodland Caribou Cutout Silver Coin.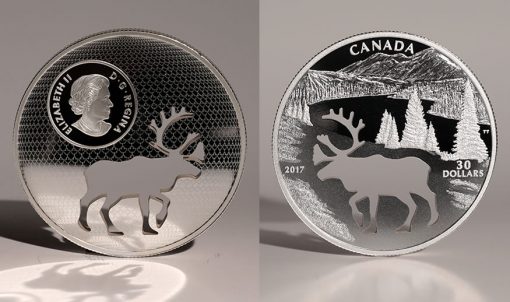 Limited to a mintage of 5,500 coins, each piece is struck to proof quality in 1.7 troy ounces of 99.99% pure silver.
Reverses (tails side) offer a mountainous landscape of Western Canada, to include grassy foothills and a tree-lined river, and the shape of a missing Woodland Caribou. Marking yet another first, the Mint employed unique technology to carve out the outline of the endangered animal.
"The missing caribou element is strongly symbolic: while it represents an artistic tribute to a beloved species, the overall design also offers a haunting re-imagining of the Canadian wilderness without this national icon — particularly the Southern Mountain population of caribou, which is listed as threatened on Canada's Species at Risk Act (SARA)," the Royal Canadian Mint describes.
Surrounding inscription include CANADA, 2017, 30 DOLLARS and initials of TT for the coin's designer, Trevor Tennant.
Because the cutout takes away space, obverses offer a smaller-than-normal portrait of Her Majesty, by Susanna Blunt, with inscriptions of ELIZABETH II and D G REGINA. There are also tiny maple leafs throughout the obverse's background.
Specifications for the collectible include:
Mintage: 5,500
Composition: 99.99% pure silver
Finish: proof
Weight (g): 52.88
Diameter (mm): 54
Edge: serrated
Certificate: serialized
Face value: 30 dollars
Reverse Artist: Trevor Tennant
Obverse Artist: Susanna Blunt
The next release from the Endangered Animal Cutout series is planned for Fall 2017.
Ordering
Listed for CAD $189.95, which is about US $145, order the 2017 $30 Woodland Caribou Silver Coin from the Royal Canadian Mint (mint.ca). An affiliate link to the set's product page is right here.