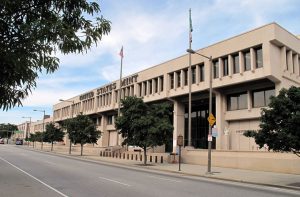 The United States Mint wants to make and sell as many coins as the public will buy, but admits there have been misses in balancing demand and mintages and in setting household ordering limits.
Back on Oct. 13, the U.S. Mint hosted its 2016 Numismatic Forum at the Federal Reserve Bank in Philadelphia. Mintages and products limits were among topics discussed in one of seven group sessions held at the event.
There were six of us randomly assigned to the group. Team members ranged from a collector who bought only coins that he liked; without care for their value, to a well-known dealer who has been in the coin business for over 40 years. Author and former Coin World editor Beth Deisher was also in the group, providing decades of insights she gleaned from reporting on numismatics.
In our group "assignment," U.S. Mint officials asked us to discuss their limits and give them recommendations. Before starting, we received the following summary guidance:
"How can we be more responsive and have the ability to include new customers? What are your thoughts and ideas regarding mintage limits, ordering via 'Online/Call Center only' or setting the appropriate Household Order Limit? How do we balance demand and mintage limits — for example, made to order vs fixed mintage limit?"
We had about an hour to debate and discuss topics. Those of us who didn't already know learned quickly that there are no simple or perfect solutions that will make everyone happy.
There were varying perspectives, as you'd expect, but we were able to offer some consensus recommendations. We came to them after weighing options and talking with U.S. Mint officials to include Principal Deputy Director Rhett Jeppson and Dufour Woolfley, Division Chief of E-Commerce, Numismatics and Bullion Directorate. They recounted some of their obstacles, objectives and goals. In summarizing my takeaways from those:
The U.S. Mint usually doesn't have a lot of metrics available to help in forecasting how well new products will sell, with this year's 100th anniversary coinage a recent example. They have used customer surveys as a projection tool.

The U.S. Mint doesn't like it when a new product goes on back order, noting that orders pretty much tank after it happens. Conversely, overproducing coins for the sake of having an unlimited supply doesn't work — they don't want to make too many coins or buy packaging only to later destroy them.

The U.S. Mint wants to ship products to customers as soon as possible, a point mentioned in multiple settings.

The U.S. Mint understands that a coin's mintage and product limits can influence sales greatly — for good or bad.

The U.S. Mint outsources product packaging to makers overseas. It takes a lot more time to reorder and get additional packaging than it does to strike more coins, making initial sales projections all the more important.
I think most of us would have liked more time to kick around ideas but we did offer general recommendations. They included:
Transparency. The U.S. Mint should clearly communicate any limiting factors for a product before it launches.

Mintages. When it comes to high-profile products, consult with a small panel of collectors, dealers and other numismatists. Let the panel help in arriving at mintages for unique products like American Liberty Silver Medals and Ronald Reagan Coin & Chronicles Sets.

Household Order Limits. When ordering limits are in effect, start them at 1 coin per household and then move to unlimited after several hours/days or after sales hit or failed to reach a certain level. The public should be aware up front when limits will or could expire.
The goal of our last recommendation is to make sure popular products are available to as many collectors as possible while giving dealers an earlier opportunity to buy them in bulk. The group suggested a standard ordering limit of 1 coin through the first three days. I actually recommended a shorter period like a half day — from the noon release until midnight. I thought a 12-hour window met our main goals and could create more "buzz" around a coin's launch and sharpen sales.
We didn't have much time to debate the value of products made to order but we thought it was viable in certain instances. The 2013-W $50 Reverse Proof Gold Buffalo was made-to-order, selling only during a four-week window without mintage or household ordering limits. Essentially, modern commemorative coins fall into the same class because of mandated year-end sales deadlines and unrealistically high mintages.
Generally, there is less excitement with coins made to order. Unless you're selling a gotta-have product, made-to-order encourages procrastination.
A home run product coupled with confident sales forecasts give this method the best chance of success. It lets the Mint build inventory so products can begin shipping on their launch. In 2013, many buyers of the reverse proof Buffalo had to wait several weeks to receive theirs. That didn't go over well.
There was one of our group members who pretty much disagreed with almost everything we discussed, and expressed very little trust in Mint officials. He represents a slice of the Mint's customer base that, frankly, I don't think they'll ever win over. Some of his viewpoints were understandable but he lost footing by arguing instead of suggesting possible solutions to issues he felt were important.
Please feel free to comment or offer your own ideas. I owe the Mint some follow-up information and I can include your thoughts.