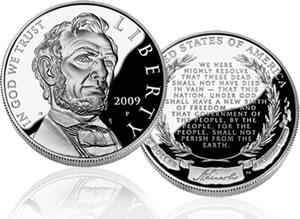 Introductory US Mint proof and uncirculated Abraham Lincoln Silver Dollar prices end on Monday, March 16, at 5:00 pm ET. Prices will increase from $37.95 to $41.95 for the proof and from $31.95 to $33.95 for the uncirculated.
Getting the commemorative coins at their lowest prices is undoubtedly a call to action for buying now. But perhaps more compelling is the possibility that the Mint could stop selling one or both coins before Monday even arrives, or very shortly thereafter.
Why? Because the coins are near their sellout levels.
The mintage for both coins combined is a maximum of 500,000, with an unspecified amount within that total set aside for a special five-coin set to include one or both coins (the Mint has yet to provide details.) Last week's sales figures showed some 100,000 had sold within about a week and a total of 335,051 were already purchased since Feb. 12.
If that pace has continued, only a few days may be left where either Lincoln Silver Dollar is available. In short, waiting too much longer is likely to result in:
Paying more for each coin, or
Having to buy one or both from the secondary market instead of the Mint, or
Having to hope that both coins are in the special five-coin set, and that the set and pricing is attractive
Interestingly, current eBay auctions shows bidding for MS69 and PF69 specimens around $12-$18 higher than current Mint prices. And MS70 and PF70 coins are now being sold for about 4X the intro prices. While ungraded silver dollars are listed for less, it only seems logical to expect that prices will rise across the board given the circumstances at hand.
With demand clearly high, price increases coming, and a likely sellout on the fast approaching horizon, if you want the Lincoln Silver Dollars, now is the best time to purchase them straight from the Mint.
The US Mint page for each coin is located at:
The Lincoln commemorative silver coins, as well as the four newly redesigned 2009 Lincoln Pennies, celebrate the 200th anniversary of Abraham Lincoln's birth on Feb. 12, 1809.