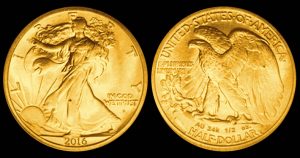 Last week, the United States Mint announced Nov. 17 as the release date for 2016-W Walking Liberty Half Dollar Centennial Gold Coin.
During a Numismatic Forum in Philadelphia on Thursday, Oct. 13, U.S. Mint officials revealed the coin's mintage of 70,000 and a 3 per household ordering limit.
Its opening price will be based on an average of London gold for the week ended Nov. 16, according to this pricing schedule. Today, it would cost $890 since gold has sat within the $1,250.00 to $1,299.99 range.
Differing Mintages and Limits
The half dollar is the last of three .9999 fine gold coins to celebrate popular designs introduced 100 years ago. The first two are renditions of the 1916 Mercury dime and the 1916 Standing Liberty quarter. They have higher mintages of 125,000 and 100,000 coins.
Their household ordering limits were different as well, with the dime at 10 coins and the quarter initially at 1 coin until that restriction was removed about three weeks into sales.
The gold quarter is available today at catalog.usmint.gov for $472.50, and 78,464 have sold through Oct. 9.
Fate of Remaining Gold Mercury Dimes
The gold dime launched at $205 and went off sale within an hour of its release. After order reconciliations and cancellations, the U.S. Mint has its total at 116,095 coins.
Mint officials have yet to decide the fate of the remaining 8,000+ dimes. They have kicked around possibilities — to include melting them, resuming sales, and bundling them with other products.