Imagery reminiscent of Canada appear on a new collectible that has the added attraction of being the most affordable silver coin produced by the Royal Canadian Mint.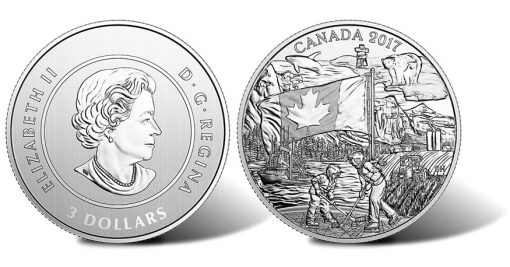 Entitled the 2017 Spirit of Canada Pure Silver Coin, each is composed from a bit more than one-quarter troy ounce of 99.99% pure silver and is priced at CAD $19.95, which is about US $15.
Spirit of Canada Coin Designs and Specifications
Canadian artist Steve Hepburn designed the coin's reverse (tails side). As the second largest country in the world, there are a plethora of possible scenes identifiable as Canadian. Those most emblematic of the spirit of the country are representted.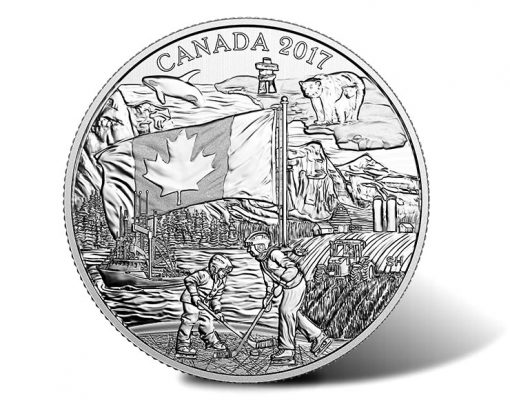 Inscriptions of CANADA and 2017 are above the design and the artist's initials are near the lower right.
Obverses (heads side) show Susanna Blunt's effigy of Queen Elizabeth II and have inscriptions of ELIZABETH II, D G REGINA and 3 DOLLARS.
Specifications as provided by the Royal Canadian Mint are:
Mintage: Unlimited (while supplies last)
Composition: 99.99% pure silver
Finish: specimen
Weight (g): 7.96
Diameter (mm): 27
Edge: serrated
Certificate: not serialized
Face value: 3 dollars
Reverse Artist: Steve Hepburn
Obverse Artist: Susanna Blunt
Ordering
The 2017 Spirit of Canada Pure Silver Coin is available directly from the Royal Canadian Mint at mint.ca. An affiliate link to the coin's product is right here.
Each coin is enclosed in unique folder-style packaging that can either be stored for posterity or displayed using its pop out easel back.