Commemorating the contributions of roughly 40,000 Canadian men and women who served as part of the Bomber Command in World War II, the Royal Canadian Mint is now selling the 2017 $20 The Bombing War 1 oz. Pure Silver Coin.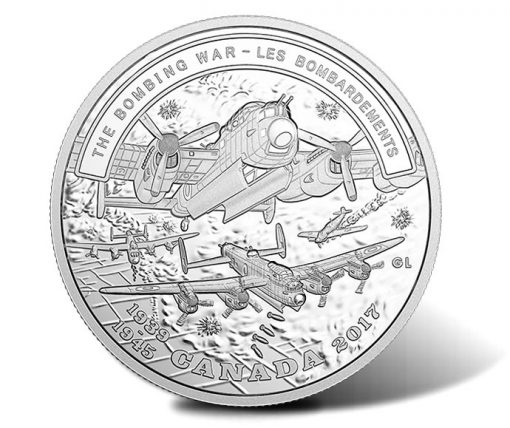 This collectible is issued as the fourth 99.99% pure silver coin from the Mint's Second World War Battlefront series, which chronicles Canada's involvement in key WWII battles. No more than 7,500 will be sold.
Designed by Canadian artist Glen Loates, the coin's reverse or tails side depicts Avro Lancaster B. III bombers flying through a storm of anti-aircraft fire during a bombing mission over Germany. Around the battle scene are inscriptions of "THE BOMBING WAR – LES BOMBARDEMENTS," "1939-1945," "CANADA," and "2017."
A historical effigy of a facing left King George VI appears on the coin's obverse or heads side. The portrait was originally designed by Thomas Humphrey Paget.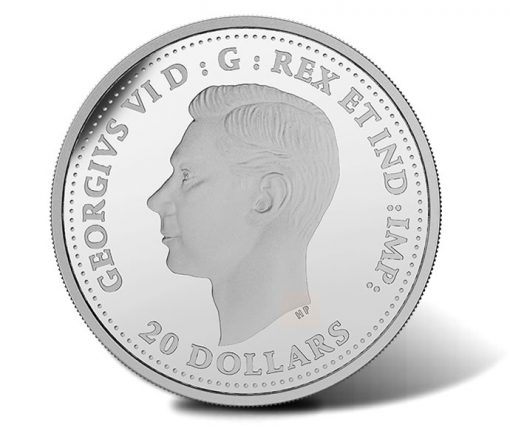 The likeness is surrounded by inscriptions of "GEORGIVS VI D:G:REX ET IND:IMP:" and "20 DOLLARS."
Major specifications for the collector coin include:
Mintage: 7,500
Composition: 99.99% pure silver
Finish: proof
Weight (g): 31.39
Diameter (mm): 38
Edge: serrated
Certificate: serialized
Face value: 20 dollars
Reverse Artist: Glen Loates
Obverse Artist: T. H. Paget
Ordering
Place orders for the 2017 $20 The Bombing War 1 oz. Pure Silver Coin on the Royal Canadian Mint's website at mint.ca. An affiliate link to the coin's product page is right here. Pricing is CAD $92.95, which is about US $74.50.
Each coin is encapsulated and ships in a Royal Canadian Mint-branded maroon clamshell with a custom beauty box.