Canada's 150th anniversary is memorized on a unique collectible, the 2017 $3 Heart of Our Nation Silver Coin. Featuring inspiring national symbols, the piece is the last issue from the Royal Canadian Mint's "2017 Canada 150 Most Affordable Pure Silver 2-Coin Subscription."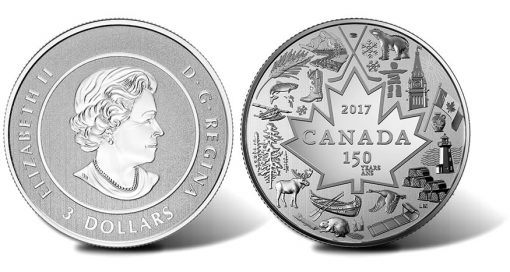 Each coin is composed from about one-quarter troy ounce of 99.99% pure silver and is priced at CAD $19.95, which is just over US $15.
Artist Laurie McGaw designed the coin's reverse. It features a collection of distinct Canadian symbols, including landmarks, wildlife and artifacts. Their placements are in an east/west/north/south orientation to reflect their location on a Canadian map. Together, they encircle a maple leaf that is the heart of the design. Within the heart are engravings of 2017, CANADA, and 150 YEARS ANS.
Obverses carry Susanna Blunt's effigy of Queen Elizabeth II with inscriptions of ELIZABETH II, D G REGINA and 3 DOLLARS.
Specifications as provided by the Royal Canadian Mint are:
Mintage: Unlimited (while supplies last)
Composition: 99.99% pure silver
Finish: specimen
Weight (g): 7.96
Diameter (mm): 27
Edge: serrated
Certificate: not serialized
Face value: 3 dollars
Reverse Artist: Laurie McGaw
Obverse Artist: Susanna Blunt
The first issue of the program, the 2017$3 Spirit of Canada Pure Silver Coin, has been favorably reviewed by 150 customers with a rating of 4.4 out of 5.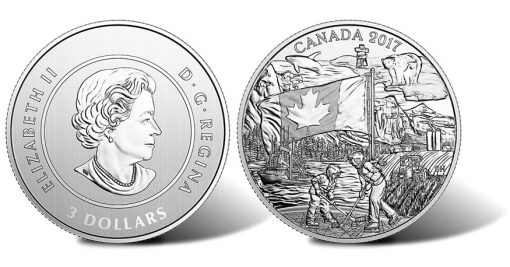 Ordering
The 2017 $3 Heart of Our Nation Silver Coin is available directly from the Royal Canadian Mint at mint.ca. An affiliate link to the coin's product page is right here.
Each coin is enclosed in a folder-style packaging that can either be stored for posterity or displayed using its pop out easel back.