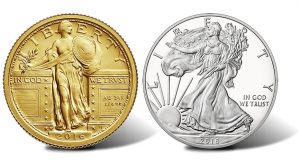 The much expected 2016-W Standing Liberty Centennial Gold Coin launches at noon ET this Thursday, Sept. 8. It'll cost $485.00 to get one.
That price can change-up weekly in the unlikely event any are left beyond the next several days. Limited to 100,000 with 1 available per household, the gold Liberty quarter is expected to sell out quickly. (See images of the coin.) The U.S. Mint each Wednesday adjusts prices on its collector gold coins according to a weekly average of London gold. Debut pricing for the 2016 Standing Liberty Gold Coin is based on gold's latest weekly average of between $1,300.00 and $1,349.99 an ounce.
Collectors are also looking ahead to the Sept. 16 release of the 2016-W Proof American Silver Eagle. In celebration of the 30th anniversary of the first issue, collector editions of this year's American Silver Eagles will feature a smooth edge with lettering denoting their anniversary. The 2016 Proof Silver Eagle will be $53.95, marking a $5 increase from the previous issue. Last year's piece launched on Jan. 2, 2015 when the London silver fixing was at $15.71 an ounce. Silver was at $19.92 an ounce this morning.
The U.S. Mint is planning on releasing other annual products that include proof Silver Eagles, and then there is the uncirculated edition by itself. The agency has not announced their release dates but it has settled on their prices. Here's a table with related American Silver Eagle product pricing for 2016:
| Product | 2016 Price | Last Year's Price |
| --- | --- | --- |
| 2016-W Proof Silver Eagle | $53.95 | $48.95 |
| 2016-W Uncirculated Silver Eagle | $44.95 | $39.95 |
| 2016 Congratulations Set | $54.95 | $50.95 |
| 2016 Uncirculated Dollar Coin Set | $49.95 | $46.95 |
Lastly, the U.S. Mint will release the 2016 Ronald Reagan Coin & Chronicles Set on Oct. 11 for $68.95. There's no news yet about what it'll include. Previous sets have had stamps, silver medals and exclusive reverse proof $1 coins featuring the honored president. Last year's sets were $57.95 apiece.
CoinNews will talk more about the above products before their release.