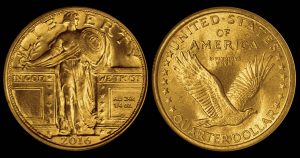 The 2016-W Standing Liberty Centennial Gold Coin will launch on Sept. 8 and the 2016-W Proof American Silver Eagle will go on sale Sept. 16, the United States Mint announced on Monday.
The gold piece commemorates the 100th anniversary of the Standing Liberty quarter, which is composed of .900 fine silver and was minted for circulation from 1916 to 1930. The centennial edition is in .9999 fine gold and shares the original quarter designs to include the bare-breasted obverse. The coin's obverse changed after 1916 with chain mail added to cover Liberty's chest. The gold coin has added obverse inscriptions of 'AU 24K 1/4 OZ'.
Major details for the collectible are yet to be unvealed, such as its mintage and household ordering limits. As for what it will cost, U.S. Mint policy is to set prices of collector gold coins based on a weekly average of London gold. It released a pricing schedule earlier this year that shows the coin would be $485 today based on gold's average of between $1,300.00 and $1,349.99 an ounce. If the precious metal maintains its current momentum above $1,350 an ounce, it would be $497.50.
The gold Standing Liberty quarter is the second of three coins the U.S. Mint will release this year to celebrate popular designs introduced 100 year ago. A centennial gold Mercury dime launched on April 21 and went off-sale within an hour. A gold Walking Liberty half-dollar will end the special series.
In celebration of the 30th anniversary of the first issue, collector editions of this year's American Silver Eagles will feature a smooth edge with lettering denoting the anniversary. The one-year-only edge change is required under the FAST Act, which President Obama signed into law on Dec. 4.
Mintages, possible ordering limits and pricing remain unknown. Last year's proof Silver Eagle went on sale Jan. 2 for $48.95 when silver was at $15.71 an ounce. The precious metal is now trading at a two-year high near $20.60 an ounce.
The uncirculated 2016 Silver Eagle will also have a smooth edge with the same lettering. Release information is not yet available for it.
U.S. Mint collector products launch at noon (ET) on the day of their release. CoinNews will talk more about the products before they go on sale.