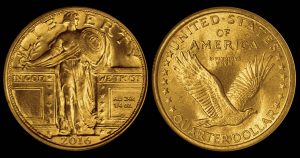 Last week, the United States Mint revealed the release date of Sept. 8 for the 2016-W Standing Liberty Quarter Centennial Gold Coin.
Today, Aug. 9, the agency announced its mintage, ordering limit, specifications, packing and shipping timeline.
As for limits, no more than 100,000 will be sold and ordering will be restricted to 1 coin per household. The coin's specifications include:
Denomination: Quarter
Finish: Business Strike
Composition: 99.99% Gold
Content:.9999 Fine Gold (7.776 grams)
Diameter: 0.866 inch (22.00 mm)
Weight: 0.2500 troy oz. (7.776 grams)
Thickness: 0.064 inch (1.63 mm)
Edge: Reeded
Mint: West Point
Mint Mark: W
The gold Standing Liberty quarter is the second of three coins for release this year to celebrate popular designs introduced 100 year ago. A centennial gold Mercury dime launched on April 21 and went off-sale within an hour. Its mintage was set at 125,000 coins and there was a household ordering limit of 10 coins.
Similar to the centennial gold dime, the gold quarter will be encapsulated and placed in a custom designed, black matte, wood presentation case, and accompanied by a Certificate of Authenticity.
The gold quarter's price will be based on the Mint's pricing schedule, and known the day before its release. Today, it would be $485 based on gold's average of between $1,300.00 and $1,349.99 an ounce. The issue price for the gold Mercury dime was $205.
In stock coins will be available for immediate shipping, the U.S. Mint states.