The United States Mint is another step closer to releasing its 2016-W Standing Liberty Centennial Gold Coin. Product details announced last week have joined new images of the 24k gold quarter.
Celebrating the 100th anniversary of the silver Standing Liberty quarter and featuring sculptor Hermon A. MacNeil's original bare-breasted obverse and eagle reverse, the centennial .9999 fine gold quarter will launch at noon Eastern Time on Sept. 8.
Obverses depict Liberty holding a shield and olive branch as she steps through an opening in a wall bearing 13 stars. Inscriptions include LIBERTY, IN GOD WE TRUST, AU 24K, 1/4 oz., 2016. There are also single letter inscriptions of W for the West Point Mint and M for sculptor MacNeil's initial. Its one-quarter ounce weight is symbolic of the coin's denomination, as is its business strike.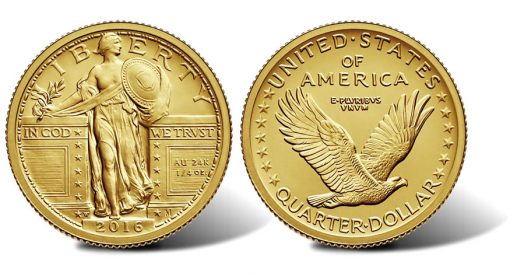 Reverses feature and eagle in flight flanked by 13 stars. Inscriptions are UNITED STATES OF AMERICA, E PLURIBUS UNUM, and QUARTER DOLLAR.
The gold quarter's price is based on the U.S. Mint's pricing schedule and will be made public one day before its release. Today, it would be $485 given gold's average of between $1,300.00 and $1,349.99 an ounce.
Each West Point Mint-struck coin ships encapsulated and hand packaged in a custom-designed, black-matte hardwood presentation case that is accompanied by a Certificate of Authenticity. They will be sold on the U.S. Mint's website, right here.
The gold quarter is limited to a mintage of 100,000 and a household ordering restriction of 1 coin.