The U.S. Mint introduced its centennial Standing Liberty gold quarter on Sept. 8, 2016. This short article presents high-resolution photos and a video of the one-quarter ounce, .9999 fine 24-karat gold coin.
This 25-cent gold piece is a 100th anniversary edition of sculptor Hermon A. MacNeil's original Standing Liberty design that was featured on quarters for circulation beginning in 1916.
It's the second of three 2016-dated gold coins to celebrate the centennial of iconic coin designs. The first celebratory coin, the gold Mercury dime, was released on April 21. It became unavailable within 40 minutes of launching, with 116,096 of the originally allotted 125,000 coins now sold.
The final anniversary coin offers a rendition of the 1916 Walking Liberty half-dollar. It'll be released within the next few months.
Before getting to the photos, here's a short video of the gold quarter:
Below are the photos. The first ones show the quarter's obverse or heads side.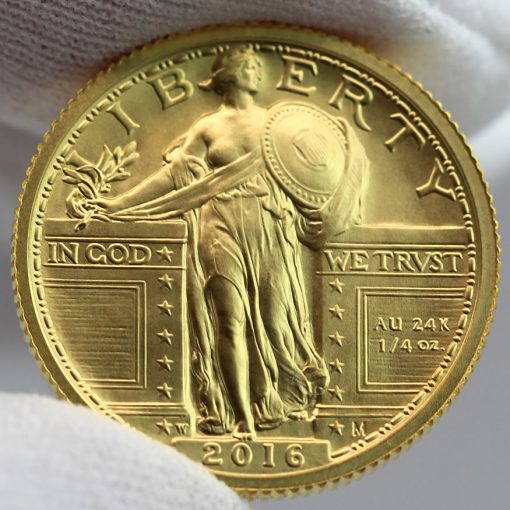 | | |
| --- | --- |
| Another view of the obverse | One more view of the obverse |
Here are some photos of the quarter's reverse or tails side: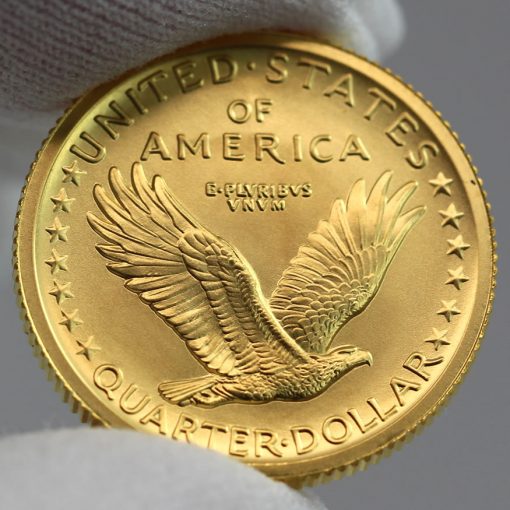 | | |
| --- | --- |
| Another view of the reverse | One more view of the reverse |
These two photos shows the gold coin's reeded edge and its raised rim:
| | |
| --- | --- |
| View of the reeded edge | Another view of the edge |
These photos show the coin's packaging box, custom display case, certificate of authenticity and specifications:
Finally, here are side-by-side photos of the gold Mercury dime and Standing Liberty gold quarter:
Now priced at $485.00, the U.S. Mint's product page for the collectible gold quarter is right here. Place phone orders using 1-800-USA-MINT (872-6468).
On Wednesday, Sept. 21, the Mint lifted ordering limits so buyers can get as many as they want.