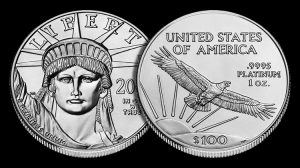 Next Monday, July 25, the United States Mint will begin taking orders for the 2016 $100 American Eagle Platinum Bullion Coin.
The series of 1-ounce, .9995 fine platinum bullion coins was introduced in 1997 as an annual product for investors but has not always been issued. It went on a five-year sales hiatus beginning in 2009, while a collector proof counterpart continued, and was again absent from the Mint's product lineup in 2015.
Similar to companion products like American Eagle gold and silver bullion coins, this American Platinum Eagle will be sold through the Mint's network of Authorized Purchasers who consist of major coin and precious metals dealers, brokerage companies and other participating financial intermediaries. AP's must order bullion Platinum Eagles in bulk, buying at least 1,000 of them, and pay a 4% premium over the prevailing price of platinum. They then resell the coins in smaller quantities at a markup.
"This method provides for the creation of an effective and efficient two-way distribution, which maximizes the availability of the coins in retail markets as well as major investment markets," the U.S. Mint said in a statement.
From 1997 to 2008, American Platinum Eagles were available in bullion and collector proof sizes of:
1 oz at a face value of $100
1/2 oz at a face value of $50
1/4 oz at a face value of $25
1/10 oz at a face value of $10
These same sizes were offered briefly in uncirculated quality with the introduction of the collector American Platinum Eagle Uncirculated Coin in 2006. Sales of uncirculated Platinum Eagles were halted along with the bullion editions in 2009. They never returned.
Only proof Platinum Eagles in the 1-ounce size have been seen annually since 1997. This year's proof completes the two-year design theme titled Torches of Liberty. It launched on June 30 and sold out within an hour.
American Platinum Eagle obverses share John Mercanti's design titled Portrait of Liberty. Every bullion issue also has a common reverse showcasing Thomas D. Rogers Sr.'s design of a soaring bald eagle. Proof editions feature reverse designs that change each year.
The U.S. Mint has not indicated how many bullion Platinum Eagles it will sell this year, only saying they "will be available until inventory has been exhausted." They will be sold under an allocation process. The last bullion release from 2014 ended with sales of 16,900. The Mint had allotted 10,000 coins for this year's proof edition.