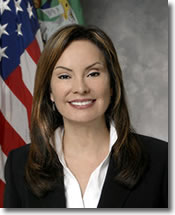 Treasurer of the United States Rosie Rios will be at the Bureau of Engraving and Printing (BEP) to autograph notes in a public event held between 10:00 a.m. and 11:45 a.m. on Thursday, December 16, 2010.
Attendees can bring up to two notes to sign, or exchange old bills for new ones and have those autographed. The event is free, but the time is limited to the hours above.
Rios' facsimile signature appears on new Federal Reserve Notes along with that of the Secretary of the Treasury Timothy F. Geithner.
Rosie Rios is the 43rd Treasurer of the United States and was sworn into office on August 20, 2009. She advises Secretary Geithner on matters relating to coinage, currency and the production of other instruments by the United States, according to her official bio. Rios also serves as a senior advisor and representative of the Treasury on behalf of the Secretary in the areas of community development and public engagement.
The BEP is located at 14th and C Streets, SW, Washington DC, which is next to the United States Holocaust Memorial Museum and north of the 14th Street Bridge.
The BEP is served by Metrobus routes 52, V4 and V6 in DC and 13 from Virginia. Call (202) 637-7000 for information and schedules. Parking is extremely limited in the area, according to the BEP. Some metered parking is available on side streets, with a two-hour limit. Parking lots are located at the southeast corner of 14th & D Streets, SW; at 12th & Maryland Avenue, SW and at 12th & C Streets, SW.