The Royal Canadian Mint is now selling circulation-quality 2016 Lucky Loonies to Canadian residents.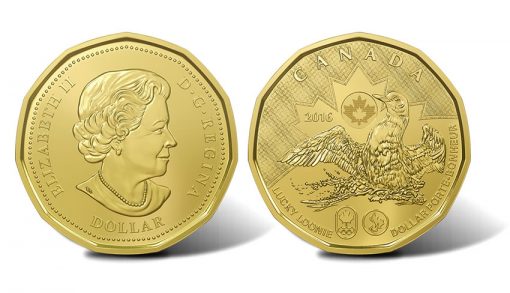 Product options include a 5-coin pack for $5 and a special wrap $25 roll for $49.95.
"In what is now a legendary tale, a Loonie was embedded at centre ice prior to the 2002 Winter Games in Salt Lake City to bring luck to Canada's men's and women's hockey teams," describes the Mint. "Both brought home gold."
Since then, a Lucky Loonie has been released for every Olympic and Paralympic Games. This year, the Lucky Loonie salutes Canadian athletes going to the Rio 2016 Olympic and Paralympic Games in Brazil.
Designed by Canadian artist Derek Wicks, the coin's reverse features a loon on the water with its body arched and wings outstretched for take-off. The background offers a stylized maple leap. Near the bottom, centered, are the Canadian Olympic and Paralympic Team logos. Completing the design are inscriptions of CANADA, 2016, and LUCKY LOONIE / DOLLAR PORTE-BONHEUR for its popular moniker.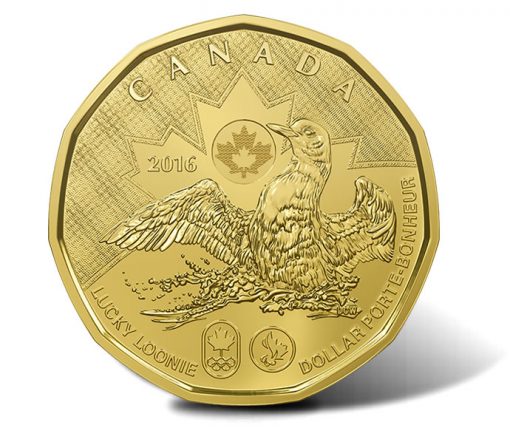 Obverses feature Susan Blunt's portrait of the Queen with surrounding inscriptions of ELIZABETH II, D G REGINA and DOLLAR.
Coins are in standard three-ply brass plated steel, weigh 6.27 grams and are minted to a diameter of 26.5 millimeters.
Ordering
5-coin packs and special wrap rolls are available directly from the Royal Canadian Mint's website at mint.ca. The rolls are in commemorative paper wrap.
The Mint is also selling a silver edition struck to collector proof quality in 7.89 grams of 99.99% pure silver. Its price is $39.95, plus shipping.