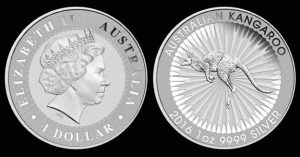 Sales of Australian bullion coins and bars eased in April compared to the previous month but surged over the levels posted a year earlier, data from the Perth Mint shows. Also, and notably, silver sales scored their eight consecutive months above 1 million ounces.
Perth Mint bullion sales registered against a backdrop of soaring precious metals. London fixings in April scored gains with gold 3.9% higher and silver up 16.1%
Bullion Sales in April 2016
The Perth Mint in April sold 47,542 ounces in gold coins and gold bars, which is 0.9% lower than the previous month but 79.1% higher than a year earlier.
For the year to date, gold sales total 180,312 ounces for an increase of 55.5% over the 115,960 ounces delivered in the first four months of last year.
Perth Mint sales of silver bullion advanced in April by 1,161,766 ounces, down 33.9% from March but 146% higher than the 472,273 ounces sold in April 2015. Keep in mind that the over 1.7 million tally from the previous month (March) was exceptional, ranking as the second highest month on record since CoinNews started tracking the Mint's data in February 2013.
In the January to April period, the Mint's silver sales reached 5,440,474 ounces for an advance of 160.5% over last year's starting four-month total of 2,088,897 ounces.
Perth Mint Gold and Silver Sales by Month
Below is a monthly breakdown of Perth Mint bullion sales from April 2015 to April 2016.
Perth Mint Bullion Sales (in troy ounces)
April 2016
1,161,766
47,542
March 2016
1,756,238
47,948
February 2016
1,049,062
37,063
January 2016
1,473,408
47,759
December 2015
1,083,460
40,096
November 2015
1,145,239
31,664
October 2015
1,751,898
66,951
September 2015
3,349,557
63,791
August 2015
707,656
33,390
July 2015
746,700
51,088
June 2015
384,586
31,019
May 2015
337,511
21,671
April 2015
472,273
26,545
In related news, the Perth Mint said it sold all of its bullion 2016 Lion and Monkey Privy Mark Coins.