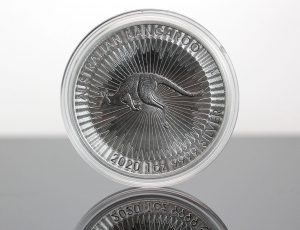 Australian bullion sales surged to milestone levels in April, the latest figures from The Perth Mint of Australia show. When compared against past months since CoinNews started tracking the data in February 2013, the Mint's gold sales are in first place and its silver sales are in second.
The gains happened against a backdrop of soaring precious metals with LBMA prices in April jumping 5.8% for gold and rallying 10.1% for silver.
Bullion Sales in April 2020
Perth Mint sales of gold coins and gold bars hit 120,504 ounces last month, scoring gains of 28.5% from March and 502.8% from April 2019. Gold sales in March at 93,775 ounces slipped to third highest for a month, with April 2013 sales of 112,575 ounces dropping from first to second place.
Year-to-date gold sales at 285,499 ounces register 176% higher than the 103,461 ounces sold in the first four months of 2019.
April sales of the Mint's silver coins and silver bars at 2,123,121 ounces marked gains of 22.3% from March and 134.3% from April of last year. The only better month for the Mint's silver sales was September 2015 at 3,349,557 ounces. Now following April 2020 sales are March 2016 at 1,756,238 ounces and March 2020 at 1,736,409 ounces.
For the year to date, silver sales at 5,915,472 ounces are 81.7% higher than the 3,255,202 ounces sold during the same time last year.
Perth Mint Gold and Silver Sales by Month
Below is a monthly summary of Perth Mint bullion sales from April 2019 to April 2020. The figures show monthly ounces of gold and silver shipped as minted products by The Perth Mint to wholesale and retail customers worldwide. It excludes sales of cast bars and other Group activities including sales of allocated/unallocated precious metal for storage by the Depository.
Perth Mint Bullion Sales (in troy ounces)
Silver
Gold
April 2020
2,123,121
120,504
March 2020
1,736,409
93,775
February 2020
605,634
22,921
January 2020
1,450,317
48,299
December 2019
1,361,723
78,912
November 2019
1,027,695
54,261
October 2019
1,394,615
32,469
September 2019
1,350,038
46,837
August 2019
1,171,233
21,766
July 2019
987,040
21,518
June 2019
344,474
19,449
May 2019
681,582
10,790
April 2019
906,219
19,991