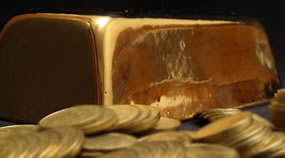 Gold futures scored a string of twos — they finished higher on Friday for a second straight day, closed at a more than two-week high and logged a second straight weekly gain.
Gold for June delivery gained $6.30, or 0.5%, to end at $1,243.80 an ounce on the Comex division of the New York Mercantile Exchange. The settlement was the highest since March 22 when the yellow metal ended at $1,248.60 an ounce.
"Gold prices rallied because the market anticipated a change in the Fed's rate hike outlook," Reuters quoted Stefan Wieler, vice president of GoldMoney in Vancouver. "Now the Fed says two hikes, the market thinks zero, and gold prices hover somewhere around $1,200-$1,250 until this question gets answered."
Gold futures advanced 1.7% on the week after edging up 0.2% last week. The precious metal so far this year has surged $183.60 or 17.3%. In looking ahead to next week, Kitco News offers the following forecasts via their Wall Street vs. Main Street survey:
"This week 1,287 people participated in Kitco's online and Twitter gold surveys. Of those, 1035 voters, or 80%, said they expect to see higher prices next week; at the same time, 162 people, or 13%, said they expect to see lower prices next week; and 90 people, or 7%, are neutral on the market…

Out of 36 market experts contacted, 15 responded, of which nine professionals, or 60%, said they are bullish on gold. Four professionals, or 27%, said they are bearish, and two analysts, or 13%, are neutral."
Elsewhere on Friday, silver for May delivery tacked on 22.6 cents, or 1.5%, to close at $15.384 an ounce. The settlement was the highest since March 31 when silver ended at $15.464 an ounce.
Silver prices surged 2.3% this week after dropping 1% last week. They are higher on the year to date by $1.58 or 11.5%.
In PGM futures on Friday and for the week:
July platinum added $13.70, or 1.4%, to $968.40 an ounce, and moved 1.4% higher than a week earlier.

Palladium for June delivery rose $4.85, or 0.9%, to $538.65 an ounce, but fell 4% on the week.
For the year to date, platinum is up 8.4% and palladium is down 4.2%.
London Precious Metals Prices
London precious metals changed modestly on Friday and were mixed on the week. In comparing their levels from Thursday PM to Friday PM:
Gold declined $2.60, or 0.2%, to $1,239.50 an ounce.
Silver declined 6 cents, or 0.4%, to $15.16 an ounce.
Platinum added $2, or 0.2%, to $957 an ounce, and
Palladium added $1, or 0.2%, to $537 an ounce.
For the week, gold gained 2.1%; silver and palladium registered losses of 1.4% and 3.9%; and platinum was unchanged.
US Mint Bullion Sales in 2016
U.S. Mint bullion coin performances improved greatly compared to a week ago.
Gold coin sales advanced 26,500 ounces this week — their biggest weekly gain since Feb. 19, after rising by 10,500 ounces last week. Sales splits include 20,500 ounces in American Gold Eagles versus 8,500 ounces previously and 6,000 ounces in American Gold Buffalo compared to 2,000 ounces previously.
The U.S. Mint this week limited sales of American Silver Eagles to 1,042,500 coins, which included 42,500 left over from last week's allocation of 1 million coins. Bullion distributors ordered 1,006,500, or 96.5%, of them. 2016 Silver Eagle sales remain on record pace at 15,964,000 coins, up 24.2% from the same time in record year 2015.
Below is a sales breakdown of United States Mint bullion products with columns listing the number of bullion coins sold during varying periods of time.
US Mint Bullion Sales (# of coins)
Friday Sales
Last Week
This Week
Mar Sales
Apr Sales
2016 Sales
$50 American Eagle 1 Oz Gold Coins
7,500
6,000
17,500
29,000
18,500
204,000
$25 American Eagle 1/2 Oz Gold Coins
0
0
1,000
1,000
1,000
31,000
$10 American Eagle 1/4 Oz Gold Coins
0
0
2,000
4,000
2,000
54,000
$5 American Eagle 1/10 Oz Gold Coins
10,000
25,000
20,000
75,000
20,000
340,000
$50 American Buffalo 1 Oz Gold Coins
4,000
2,000
6,000
7,000
6,000
66,000
$1 American Eagle 1 Oz Silver Coins
0
957,500
1,006,500
4,106,000
1,121,500
15,964,000
2016 Shawnee 5 Oz Silver Coins
0
0
0
0
0
105,000