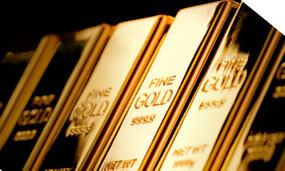 Gold futures pulled back for a second day in a row, paring their weekly gains, as crude oil bounced and global stock markets rallied.
Gold for February delivery shed $1.90, or 0.2%, to settle at $1,096.30 an ounce on the Comex division of the New York Mercantile Exchange.
"Traders took a more risk-on approach, as crude oil and equities move higher," Bloomberg News quoted Phil Streible, a senior market strategist at RJO Futures in Chicago. "Investors are exiting flight-to-quality plays like gold and silver."
Gold prices edged up 0.5% on the week after sliding 0.7% last week, and they are 3.4% higher on the year to date. In looking ahead to next week, Kitco News offers the following forecasts via their Wall Street vs. Main Street survey:
"Not only do a majority of retail investors expect to see higher prices next week, Kitco's online survey hit a milestone as a record 1,051 people participated in the vote. Of those who voted, 848, or 81%, said they are bullish on gold next week; at the same time, 142 people, or 14%, said they are bearish and 61 people, or 6%, say they were neutral.

Kitco's survey of market participants showed similar results, albeit with a smaller majority. Out of 34 market experts contacted, 17 responded, of which 11, or 65%, said they expect to see higher prices next week; five professionals, or 29%, said they see lower prices; and one, or 6%, is neutral on gold."
After scoring three straight session increases, silver posted a second day of losses with the March contract down 3.7 cents, or 0.3%, to $14.057 an ounce. Silver was the still the second best performer of the week among most traded metals, rising 1.2%. Silver prices are 25 cents, or 1.8%, higher than their final settlement in 2015 at $13.803 an ounce.
In PGM futures on Friday and for the week:
April platinum tacked on $12.10, or 1.5%, to $831.60 an ounce, rising 0.5% from a week ago.

Palladium for March delivery inched up 85 cents, or 0.2%, to $499.85 an ounce, surging 2.6% on the week.
Both are sharply lower on the year so far with declines totaling 6.9% for platinum and 11.1% for palladium.
London Precious Metals Prices
London precious metals were mixed on Friday and for the week. In comparing their levels from Thursday PM to Friday PM:
Gold dipped 25 cents to $1,096.25 an ounce.
Silver added 16 cents, or 1.1%, to $14.17 an ounce.
Platinum added $19, or 2.3%, to $833 an ounce.
Palladium added $10, or 2%, to $507 an ounce.
Platinum fell 0.7% on the week while the other London bullion prices registered advances of 0.2% for gold, 2.7% for silver and 3% for palladium.
US Mint Bullion Sales in 2016
United States Mint bullion sales logged a strong week of gains, albeit they were, as expected, well lower from a week earlier when the array of newly 2016-dated coins was released.
Gold coin sales advanced 38,500 ounces compared to last week's 98,500 ounces. Sales splits include 33,500 ounces in American Gold Eagles compared to 75,000 ounces previously and 5,000 ounces in American Gold Buffalo coins compared to 23,500 ounces previously.
American Gold Eagle sales at 108,500 ounces are the highest for a month since 125,500 ounces moved in September.
The U.S. Mint is rationing weekly sales of American Silver Eagles because of silver planchet shortages. All of the week's allocated 1 million coins were scooped up. Last week's supply of 4 million coins was also all claimed. The month's total will grow with more Silver Eagles available on Monday, but it is already the highest since the just over 5.5 million sold in July.
Below is a sales breakdown of U.S. Mint bullion products with columns listing the number of bullion coins sold during varying periods. Products with an asterisk (*) have sold out.
US Mint Bullion Sales (# of coins)
Friday
Last Week
This Week
Dec Sales
2016 Sales
$50 American Eagle 1 Oz Gold Coins
8,000
52,500
24,500
N/A
77,000
$25 American Eagle 1/2 Oz Gold Coins
2,000
14,000
6,000
1,000
20,000
$10 American Eagle 1/4 Oz Gold Coins
4,000
26,000
6,000
N/A
32,000
$5 American Eagle 1/10 Oz Gold Coins
30,000
90,000
45,000
N/A
135,000
$50 American Buffalo 1 Oz Gold Coins
1,000
23,500
5,000
1,500
28,500
$1 American Eagle 1 Oz Silver Coins
50,000
4,000,000
1,000,000
2,333,500
5,000,000
2015 Homestead 5 Oz Silver Coins*
N/A
N/A
2015 Kisatchie 5 Oz Silver Coins*
2015 Blue Ridge Parkway 5 Oz Silver Coins*
2015 Bombay Hook 5 Oz Silver Coins*
2015 Saratoga 5 Oz Silver Coins*
N/A
9,200
This article was updated to correctly reflect that American Gold Eagles sales for the month are the highest since September. It originally stated July.