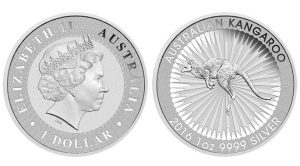 Australian gold and silver sales surged to three-month highs in January, the latest figures from the Perth Mint show.
Silver sales posted a fifth straight month atop 1 million ounces, and they marked the third highest month since CoinNews started tracking the Mint's data in February 2013. The two higher months happened in September and October.
Year-over-year gains were impressive as well with gold sales 2x higher and silver sales 2.5x higher.
Bullion Sales in January 2016
January sales of Perth Mint gold coins and gold bars reached 47,759 ounces, rising 19.1% from the previous month and jumping 106.1% over January 2015.
The Mint sold 1,473,408 ounces of silver last month, logging a 36% advance from December and a 151.5% increase from a year earlier.
Perth Mint Gold and Silver Sales by Month
Below is a monthly breakdown of Perth Mint bullion sales from January 2015 to January 2016.
Perth Mint Bullion Sales (in troy ounces)
January 2016
1,473,408
47,759
December 2015
1,083,460
40,096
November 2015
1,145,239
31,664
October 2015
1,751,898
66,951
September 2015
3,349,557
63,791
August 2015
707,656
33,390
July 2015
746,700
51,088
June 2015
384,586
31,019
May 2015
337,511
21,671
April 2015
472,273
26,545
March 2015
638,557
34,260
February 2015
392,114
31,981
January 2015
585,953
23,174