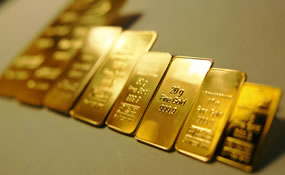 Gold futures changed little on Friday but a lot in January, surging for their biggest monthly gain in a year.
Gold for April delivery edged up 30 cents on Friday to settle at $1,116.40 an ounce on the Comex division of the New York Mercantile Exchange.
"Interest-rate jitters going forward are what brought gold up," Bloomberg News quoted James Cordier, the founder of Optionsellers.com in Tampa, Florida. "With stock markets crashing all over the world and the U.S. economy growing slowly, nothing is pointing to more rate hikes, and that's why gold is rallying."
Gold prices advanced 1.8% on the week and rallied 5.3% in January, their best monthly increase since soaring 7.5% in January 2015. On Tuesday, the yellow metal closed at $1,120.20 an ounce for its highest settlement since Nov. 2.
In looking ahead to next week, Kitco News offers the following forecasts via their Wall Street vs. Main Street survey:
"This week 994 people voted in the online survey. Of those 810, or 81%, said they are bullish on prices next week — the same percentage hit in the previous survey. At the same time, 112 people, or 11%, said they are bearish on gold next week. Only 72 people, or 7%, said they are neutral on the yellow metal.

Sentiment among market professions was also positive, albeit lower than the retail segment and down from the previous week. Out of 34 market experts contacted, 17 responded, of which 10, or 58%, said they expect to see higher prices next week. Four professionals, or 24%, said they see lower prices, while three people, or 18%, are neutral on gold."
In other precious metals dealings, silver for March delivery added 1.1 cents, or about 0.1%, to settle at $14.243 an ounce. Silver prices gained 1.3% on the week and moved 3.2% higher on the month. On Tuesday, silver futures ended at $14.56 an ounce for their best close since Nov. 6.
Lastly, in PGM futures on Friday and for the week:
April platinum climbed $6.40, or 0.7%, to $874.30 an ounce, soaring 5.1% from a week earlier.

Palladium for March delivery rose $6.50, or 1.3%, to $498.50 an ounce, but slipped 0.3% on the week.
In January, platinum declined 2.1% while palladium tumbled 11.3%.
London Precious Metals Prices
London precious metals were mixed on Friday, the week and the month. In comparing their levels from Thursday PM to Friday PM:
Gold shed $2.20, or 0.2%, to $1,111.80 an ounce.
Silver added 50 cents, or 3.7%, to $14.08 an ounce.
Platinum declined $17, or 1.9%, to $866 an ounce.
Palladium rose $2, or 0.4%, to $501 an ounce.
For the week, gold rose 1.4% and platinum gained 4% while silver dipped 0.6% and palladium fell 1.2%. For January, gold and silver surged by 4.6% and 1.9% while platinum and palladium dropped by 0.7% and 8.4%.
US Mint Bullion Sales in 2016
United States Mint bullion sales soared from December, supported by the launch on Jan. 11 of newly 2016-coins. American Eagle coins also leapt over their year-ago levels. In monthly comparisons:
American Eagle gold coins hit 124,000 ounces, racing 248 times faster than in December and climbing 53.1% higher than in January of last year when 81,000 ounces sold.

The U.S. Mint is rationing weekly sales of American Eagle silver coins because of silver planchet shortages. Still, they shot up by 5,954,500, the most for a month since January 2013 sales of 7,498,000. The monthly tally is the fourth highest since the coins were introduced in 1986. Silver Eagle sales grew 155.2% from December's level of 2,333,500 coins and 7.7% from the January 2015 mark of 5,530,000 coins.

American Buffalo gold coins moved up by 34,000, jumping about 22.7 times higher than in December but slipping from January 2015 by 500 coins or 1.5%.
Below is a sales breakdown of U.S. Mint bullion products with columns listing the number of bullion coins sold during varying periods. Products with an asterisk (*) have sold out.
US Mint Bullion Sales (# of coins)
Friday
Last Week
This Week
Dec Sales
January / 2016 Sales
$50 American Eagle 1 Oz Gold Coins
0
24,500
12,000
N/A
89,000
$25 American Eagle 1/2 Oz Gold Coins
0
6,000
3,000
1,000
23,000
$10 American Eagle 1/4 Oz Gold Coins
0
6,000
4,000
N/A
36,000
$5 American Eagle 1/10 Oz Gold Coins
0
45,000
10,000
N/A
145,000
$50 American Buffalo 1 Oz Gold Coins
1,500
5,000
5,500
1,500
34,000
$1 American Eagle 1 Oz Silver Coins
28,000
1,000,000
954,500
2,333,500
5,954,500
2015 Homestead 5 Oz Silver Coins*
N/A
N/A
2015 Kisatchie 5 Oz Silver Coins*
2015 Blue Ridge Parkway 5 Oz Silver Coins*
2015 Bombay Hook 5 Oz Silver Coins*
2015 Saratoga 5 Oz Silver Coins*
N/A
9,200
American Silver Eagle and American Buffalo gold coin figures were revised to reflect updated January sales provided by the U.S. Mint on Feb. 1.