An undated Roosevelt dime struck on a 6-penny nail realized $42,300 in Heritage's Florida United Numismatists U.S. Coins Signature® Auction in Tampa.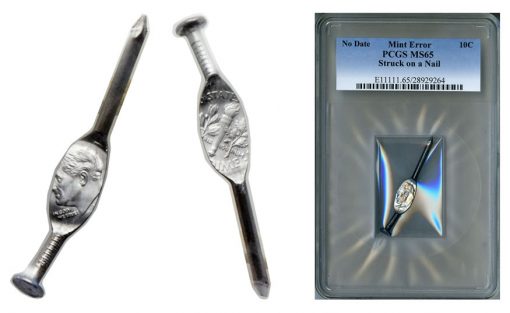 The error, graded MS65 PCGS, had a pre-auction estimate of $10,000+. It was purchased by a prominent American collector of many kinds of collectibles across a wide range of categories, according to Heritage.
"Significant error coins are among the most sought-after in the hobby," said Greg Rohan, President of Heritage Auctions, "as evidenced by the spirited bidding among collectors over this coin."
What is known is that the zinc-coated nail found its way into the coinage production line during the minting of Roosevelt dimes and apparently escaped through normal distribution channels.
"This is certainly among the most unique and mysterious errors to ever come to auction," Rohan said. "The truth is, no one really knows how or why it was struck."
This error coin is not the first coin to have such a distinction. A few examples of cents struck on nails were discovered in the 1970s, notes Heritage. The total number of similar errors is thought to be around six.
Heritage Auctions is the largest auction house founded in the U.S. and the world's third largest, with annual sales of about $900 million and over 950,000 online bidder members. To learn more about the company, visit HA.com.