The finest known 1894-S Barber dime realized $1,997,500 in Heritage Auctions' Platinum Night sale held Jan. 7 during the Florida United Numismatists Convention in Tampa.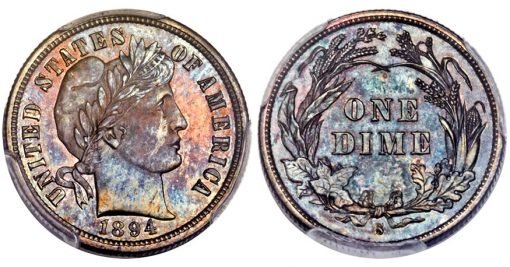 Graded PR66 PCGS CAC, the rarity sold to an experienced collector who bid online and wishes to remain anonymous. The winning bidder was one of 16 different collectors vying for the piece.
"This was a once-in-a-generation opportunity to own one of the most famous, mysterious and elusive coins in American numismatics," said Greg Rohan, President of Heritage Auctions.
Prior to this sale, the dime crossed the auction block just three times in its history.
The U.S. Mint at San Francisco struck nearly 2.5 million Barber dimes in 1893 but just 24 of them in 1894.
"It's a classic of American coinage often grouped with the 1804 dollar and the 1913 Liberty nickel as 'The Big Three' of U.S. coin rarities," Rohan added. "It has been the stuff of collectors' dreams since attention was first brought to it in 1900."
No more than nine — and possibly only eight — are known to exist today with at least a couple believed still in circulation, according to Heritage. The company is offering to pay $10,000 simply to examine an unknown example.
Heritage Auctions is the largest auction house founded in the U.S. and the world's third largest, with annual sales of about $900 million and over 950,000 online bidder members. To learn more about the company, visit HA.com.