Rare error to make its first appearance at Heritage's July 2008 Baltimore ANA Auction. Braided Hair large cent error is sized midway between a large cent and a half cent, and was struck on a half cent flan.
Dallas, TX. An amazing Braided Hair large cent struck on a half cent planchet will be making its first public auction appearance at Heritage Auction Galleries' 2008 Baltimore ANA Signature® Auction.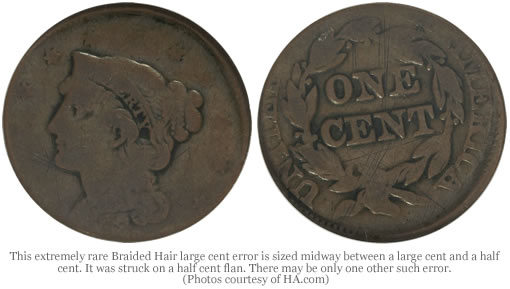 The coin has been consigned by a very private Northwest family whose members were unaware of its rarity or significance. The newly discovered rarity will be sold July 30-August 2, 2008, and the lot listing will be available online at HA.com during early July.
"In more than three decades as a numismatist," commented Heritage's Senior Numismatist Mark Borckardt," and after having examined tens of thousands of large cents, I have NEVER seen a similar error.

As soon as I spotted this amazing error coin, I gathered all of the senior numismatists, and none of them could recall a similar piece.

When they heard that the coin had sat on the front porch of a house for fifty years in a Mason jar – along with a bunch of other old coins in cans and jars – they were equally astounded!

It quickens all of our hearts to imagine that there are still major rarities out there waiting to be discovered!"
Bob Merrill, the former Director of Heritage's numismatic auctions, discovered the coin while visiting the consignors.
"When I pulled the coin out of the Mason jar, I knew that it was fairly unusual, but my attention was rather distracted by the 1794 dollar that came tumbling out behind it.

Amazingly, our staff experts in Dallas were able to find a pedigree for the 1794 dollar from 1914! The Braided Hair large cent error is sized midway between a large cent and a half cent; without an immediate restraining collar, the half cent flan expanded well beyond its normal diameter during striking.

Heritage's experts in Dallas required extra time to examine the error, so it didn't sell with the rest of the Northwest Collection in the May 2008 Signature® Auction."
"Our research," continued Borckardt, "suggests that there may be only one other such error. In the error section of Walter Breen's Large Cent Encyclopedia, he stated that he had seen an 1851-dated piece (whose whereabouts is currently unknown).

Copper specialists and error specialists consulted expressed their incredulity as well. This coin has imperfect centering, with the upper obverse borders visible, and only the extreme tops of the date visible on the flan.

We believe this piece is dated 1852 or 1853, as the right top of the 5 appears to touch the curl above (position 7 or 8 in Bob Grellman's The Die Varieties of United States Large Cents 1840-1857 reference).

NCS recorded a weight of 4.69 grams, some .75 grams below standard for a half cent; this might be explained by its worn condition, or perhaps it was a light planchet."
To discuss consigning coins or currency to an upcoming auction, please call the Heritage Consignor Hotlines at 800-872-6467 ext. 1000 (Coins); or ext. 1001 (Currency).
For more information about Heritage's auctions, and a complete record of prices realized, along with full-color, enlargeable photos of each lot, please visit www.HA.com.
To reserve your copy of any Heritage auction catalog, please contact Client Services at 1-800-872-6467, ext. 150, or visit www.HA.com/Catalog to order by email.
# # #
About Heritage Auction Galleries
Heritage Auction Galleries is the world's largest collectibles auctioneer. Our 353,061 members are a testament to our reputation for professional business practices and unprecedented knowledge in the field of collectibles. Our mission is to provide the Internet's most indispensable trading platform and source of information for serious collectors, investors and dealers.