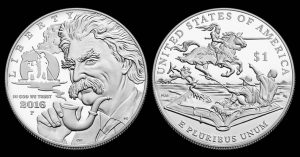 United States Mint pricing has been unveiled for the upcoming 2016 commemorative coins. The information comes from U.S. Mint documents dated Dec. 15, 2015 that are set to become public later today in the Federal Register, the official source of notices by government agencies and a daily journal of their proceedings.
The two commemorative programs for 2016 honor Mark Twain's life and legacy and the 100th anniversary of the National Park Service. Mark Twain Commemorative Coins in gold and silver launch on Jan. 14 while NPS 100th Anniversary Commemorative Coins in gold, silver and clad launch on Mar. 24. (See Twain coin designs and NPS coin designs.)
Before getting into their actual prices, keep in mind that they're already higher than they would be because of Congressional mandated surcharges of $35 for each gold coin, $10 for each silver dollar and $5 for each clad half-dollar.
Prices climbed for the 2016 clad half-dollars, up $7 compared to the 2015 editions. New silver dollar pricing is down $1. That's a plus, but it also doesn't fully compensate for how much silver has fallen. Silver dollar melt values have actually declined about $2.80 from back when a notice revealed prices of the early 2015 commemoratives.
The public notice outlines the following introductory and regular prices.
Commemorative Coins
Introductory Prices
(approx. first 30 days)
Regular Prices
Twain and NPS Silver Proof Dollars
$45.95
$50.95
Twain and NPS Silver Uncirculated Dollars
$44.95
$49.95
NPS Clad Proof Half-Dollars
$21.95
$25.95
NPS Clad Uncirculated Half-Dollars
$20.95
$24.95
Pricing for the gold coins will not be known until shortly before they're released. The U.S. Mint will establish those based on an average of LBMA gold prices.
Last Chance for 2015 Commemorative Coins
Laws authorizing commemorative coins almost always limit their sales to the calendar year of their issue. 2015 March of Dimes Silver Dollars and U.S. Marshals Service Commemorative Coins will no longer be available after Dec. 30, 2015. To order, visit: catalog.usmint.gov/coins/commemoratives.