Designs for next year's Mark Twain Commemorative Coins were unveiled today, Nov. 28, at the Mark Twain Boyhood Home and Museum. They were presented as part of Twain's 180th Birthday Bash.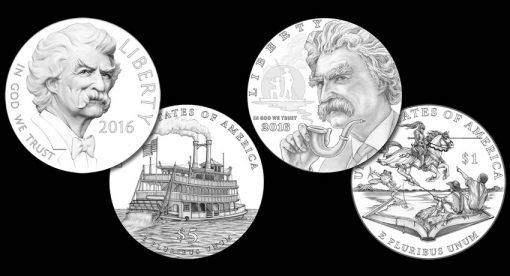 As directed by the Mark Twain Commemorative Coin Act, Public Law 112-201, the United States Mint in 2016 will strike up to 100,000 $5 gold coins and as many as 350,000 silver dollars in collector qualities of proof and uncirculated. The coins' obverses or heads side bear portraits of Samuel Langhorne Clemens, the famed author who wrote under the pen name of Mark Twain. Reverses feature designs that are emblematic of his life and legacy.
Coin prices, release dates and possible set options will be revealed at a later date.
Silver Dollar Designs
The silver dollar obverse depicts Mark Twain holding a pipe with its smoke forming a silhouette of Twain's most famous literary characters, Huckleberry Finn and Jim, on a raft. U.S. Mint Artistic Infusion Program (AIP) Artist Chris Costello created the design with Mint Sculptor-Engraver Michael Gaudioso in charge of engraving. Inscriptions include LIBERTY, IN GOD WE TRUST and 2016.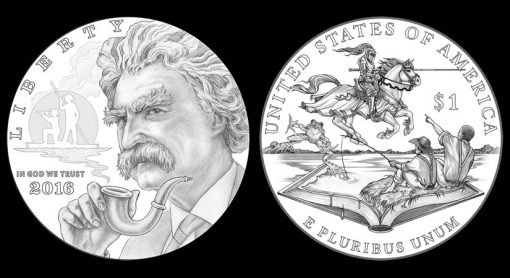 The reverse offers a representation of some of Twain's characters leaping from the pages of a book. They include the knight and horse from A Connecticut Yankee in King Arthur's Court, the frog from The Celebrated Jumping Frog of Calaveras County, and Jim and Huck from Adventures of Tom Sawyer.
Inscriptions include UNITED STATES OF AMERICA, $1 and E PLURIBUS UNUM. AIP artist Patricia-Lucas Morris was the designer with engraving by Mint Sculptor-Engraver Renata Gordon.
$5 Gold Coin Designs
A different portrait of Twain, as designed by AIP artist Benjamin Sowards, appears on the obverse of the $5 gold coin. Mint Sculptor-Engraver Don Everhart is in charge of engraving the design, which also includes the inscriptions of IN GOD WE TRUST, LIBERTY and 2016.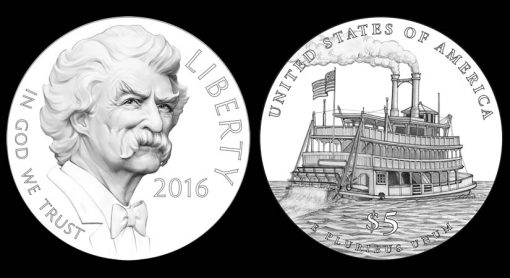 The reverse depicts a steamboat as it navigates the waters of the Mississippi River. The design is the work of AIP artist Ronald D. Sanders with engraving by Mint Sculptor-Engraver Joseph Menna. The inscriptions are UNITED STATES OF AMERICA, $5 and E PLURIBUS UNUM.
Surcharges
Sales prices of the 2016 Mark Twain Commemorative Coins will carry surcharges of $35 per gold coin and $10 per silver dollar. Provided the coins make a profit, the collected surcharges will be split evenly between these four entities:
Mark Twain House & Museum in Hartford, Connecticut
University of California, Berkeley, California, for the benefit of the Mark Twain Project at the Bancroft Library to support programs to study and promote the legacy of Mark Twain
Elmira College, New York, to be used for research and education purposes
Mark Twain Boyhood Home and Museum in Hannibal, Missouri
Specifications for the coins are identical to other modern commemoratives. For the $5 coins, this includes a composition of 90% gold and 10% silver, a diameter of 0.850 inches and a weight of 8.359 grams. Silver dollars commemoratives have a composition of 90% silver and 10% copper, a diameter of 1.5 inches and a weight of 26.73 grams.