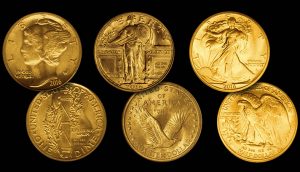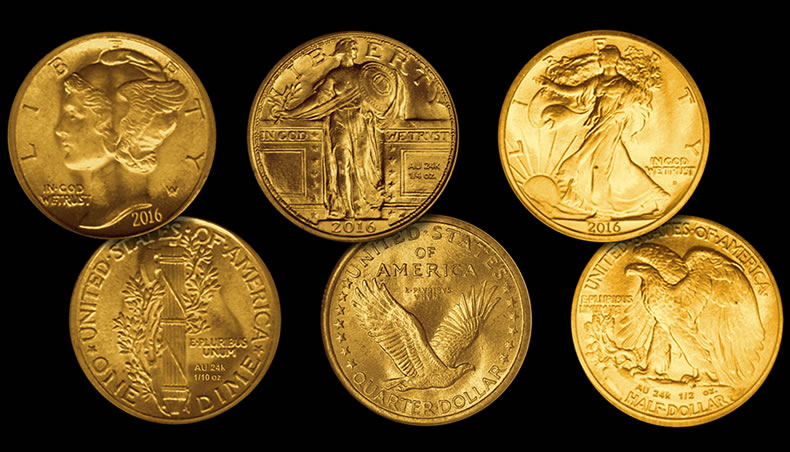 Centennial editions of the Winged Liberty dime, the Standing Liberty quarter, and the Walking Liberty half-dollar will launch in 2016, the United States Mint announced on Tuesday, Nov. 10.
This news was expected. The U.S. Mint previously discussed plans to commemorate the 100th anniversary of the three designs and in June revealed mock-up images for possible gold versions. The 1916-dated coins were in .900 fine silver.
Next year's centennial coins will bear the original designs, but instead have a composition of .9999 fine 24-karat gold. They will feature dimensions meant to approximate their 1916 counterparts. As such, the dime will contain one-tenth troy ounce of gold, the quarter will contain one-quarter troy ounce of gold, and the half-dollar will contain one-half troy ounce of gold.
In addition to the standard inscriptions on the original issues, the centennial gold coins will also have "AU," "24K," and "1/10 OZ," "1/4 OZ", or "1/2 OZ." The U.S. Mint has not stated which of its facilities will make them. In recent years, the U.S. Mint at West Point has produced all gold coins. The agency has also not said what finish or finishes the coins will have.
The Winged Liberty dime, designed by Adolph A. Weinman, features a likeness of Liberty facing left while wearing a winged cap. Many know it as the Mercury dime because of its similarity to the Roman god Mercury. The coin's reverse (tails side) offers a Roman fasces and an olive branch, representing America's military readiness and its desire for peace.
The Standing Liberty quarter, designed by Hermon A. MacNeil, shows Liberty bearing a shield and an olive branch as she steps through an opening in a wall bearing 13 stars. The reverse depicts and eagle in flight along with 13 stars.
On the half-dollar is Weinman's iconic Walking Liberty design, which portrays her striding toward the sunrise. Liberty is carrying branches of laurel and oak in her arms while wearing a Phrygian cap with an America Flag flying behind her. The reverse shows an eagle rising from its mountaintop perch.
Mintages, release dates and prices for the centennial editions will be available next year, the U.S. Mint said.