On Wednesday, June 17, the United States Mint unveiled mock-up images of 24-karat gold coins to commemorate the centennial designs of the 1916 Mercury dime, 1916 Standing Liberty quarter, and 1916 Walking Liberty half-dollar.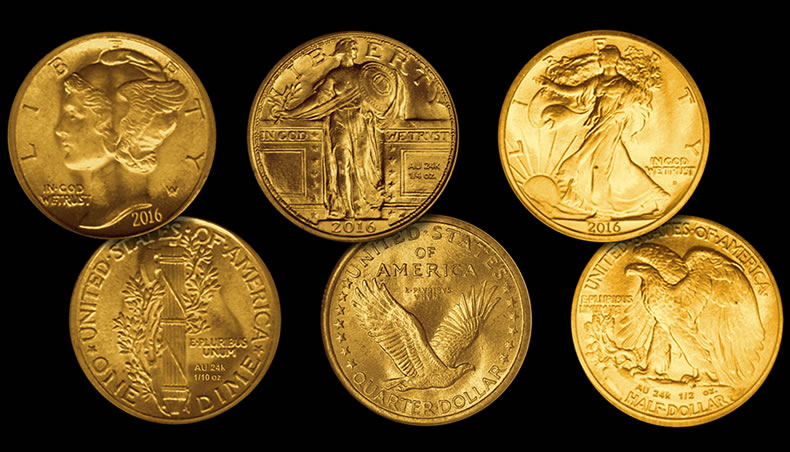 The 1916-dated coins have a 90% silver composition. In 2016, the Mint is planning on issuing versions bearing the same 100-year old designs but struck to weights of 1/10 oz. gold for the dime, 1/4 oz. gold for the quarter, and 1/2 oz. gold for the half-dollar. Another goal of the Mint is to match each gold coin to the size and diameter of their companion silver coin from 1916.
Looking for comments and suggestions, the U.S. Mint on Wednesday presented mock-ups of the centennial gold coins to the Citizens Coinage Advisory Committee (CCAC). A major area of discussion in an earlier CCAC meeting was the how's and where's of denoting an anniversary coin's fineness and weight without crowding everything. Coins of yesteryear didn't need such inscriptions, making for fuller designs and less clutter. The how's and where's are now answered, based on examining the mock-ups. They have inscriptions of:
AU 24K 1/10 OZ. on the 2016 Mercury dime,
AU 24K 1/4 OZ. on the 2016 Standing Liberty quarter, and
AU 24K 1/2 OZ. on the 2016 Walking Liberty half-dollar.
Their current presentation on the images is for illustration purposes only, the Mint notes, with the finalized inscriptions to feature fonts tweaked to the style of those handcrafted on the original 1916 coins. There was also some mention of excluding the period after each 'OZ' to improve the overall balance. For those without an electrical or chemistry background, 'Au' is the elemental symbol for gold. The abbreviated method seems better suited to the limited space available, especially on the dime.
It sounds like the 100th anniversary products will be restricted to 24-karat gold. Silver issues would require a change in the law. Some CCAC members voiced support for platinum versions, but that suggestion doesn't seem to be sticking. And with a strong emphasis on replicating the original 1916 designs as intended by sculptors Adolph A. Weinman and Hermon A. MacNeil, it appears that the U.S. Mint is leaning heavily toward business strikes only, meaning no proof or uncirculated versions.
Other than their location, mint marks on the images have little meaning at this point. The Mint hasn't declared where the centennial coins will be made or how many facilities will make them. In recent years, gold coins have been produced at the U.S. Mint in West Point.