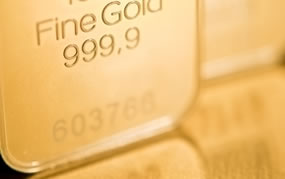 Precious metals ended mixed on Friday and down significantly on the week but still scored sharp gains in the month of October. Gold futures were hit hardest among the metals on Friday, closing at an almost 4-week low, yet they still rallied 2.4% on the month.
On Friday, gold for December delivery shed $5.90, or 0.5%, to end at $1,141.40 an ounce on the Comex division of the New York Mercantile Exchange. The settlement was the weakest since Oct. 5 when prices finished at $1,137.60 an ounce. The metal was poised for a weekly increase until a FOMC report released Wednesday left open the option for a rate hike this year.
"Our economists are expecting the Fed to raise rates in December," Reuters quoted Macquarie analyst Matthew Turner. "To bring about that expectation, we'd have to see some reasonable economic data, sufficient to show we're not entering a new slowdown, and for some of the other market measures like the Fed Funds futures to be pricing in more of a rate hike expectation. That should see the gold price falling."
Earlier in the month, on Oct. 15, gold notched a four-month high at $1,187.50 an ounce. Since, the yellow metal has logged two straight weekly declines with the most recent one at 1.8%. Gold is now down 3.6% on the year.
In looking ahead to next week, Kitco News offers the following forecasts via their Wall Street vs. Main Street survey:
"There were 272 retail investors that participated in Kitco's online survey, of which the majority expect gold prices to make a comeback in the short term. Looking at the results, 154 voters, or 57%, expect prices to move higher next week, while 90 participants, or 33%, see the lower prices. The remaining 28 voters, or 10%, are neutral on prices for the week ahead.

Gold's outlook among market professionals did not mirror retail investors' bullish sentiment with over half expecting prices to consolidate next week. Of the 36 participants contacted, 17 responded, of which 10, or 59%, say prices should move lower. The remaining 6, or 35%, were bullish while 1 participant, 6%, was neutral as he expects gold to look for direction."
Moving down and then up from day to day for two weeks in a row, silver for December delivery on Friday tacked on 2 cents, or 0.1%, to settle at $15.57 an ounce. Silver prices declined 1.6% on the week after falling 1.8% last week. Before then, prices registered three straight weekly gains. Silver prices soared 7.2% in October, trimming their year to date loss to just 0.2%.
In PGM futures on Friday and for the week:
January platinum dipped $4.20, or 0.4%, to $989.10 an ounce, falling 1.3% from a week earlier.

Palladium for December delivery added $6.45, or 1%, to $677.25 an ounce, trading 2.4% lower on the week.
In October, platinum jumped 8.8% and palladium surged 4%. For the year, the two metals have losses of 18.2% and 15.2%.
London Precious Metals Prices
London precious metals were mixed on Friday and lower on the week. In comparing London bullion prices from Thursday PM to Friday PM:
Gold lost $6.25, or 0.5%, to $1,142.35 an ounce.
Silver was unchanged at $15.82 an ounce.
Platinum declined $5, or 0.5%, to $988 an ounce.
Palladium gained $4, or 0.6%, to $677 an ounce.
Weekly losses totaled 1.6% for gold, 1% for silver, 1.8% for platinum and 3.1% for palladium. For the month, they advanced by 2.5% for gold, 8% for silver, 8.8% for platinum and 2.4% for palladium.
US Mint Bullion Coin Sales in October
United States Mint bullion sales were unusually muted for five straight business days, and then gained on Friday. Also, they weakened for a third week in a row.
U.S. Mint gold sales advanced 5,000 ounces this week, down a bit from last week's 5,500 ounces. Sales splits include 4,500 ounces in American Gold Eagles compared to 4,000 ounces previously and 500 ounces in American Gold Buffalo coins compared to 1,500 ounces previously.
Weekly silver sales reached 856,500 ounces compared to the prior week's 926,500 ounces. All came from American Silver Eagles. The U.S. Mint has been rationing Silver Eagle sales since their return after temporarily selling out in July. For a third straight week, U.S. Mint distributors did not order all of the week's allocation, which was set at 1,043,500 coins.
As for the month:
American Eagle gold coins advanced 34,000 ounces in October compared to 125,500 ounces in the prior month and 67,500 ounces from a year earlier. The monthly total was the lowest since May. For the year-to-date, American Gold Eagle sales hit 670,000 ounces. That compares to 446,500 ounces through the same period in 2014.

American Eagle silver coins advanced 3,788,000 for the month compared to 3,804,500 in September and 5,790,000 in October 2014. The coins are on a record annual pace. Their sales at 39,842,500 for the year compare to the 38,041,000 sold though the same time in 2014. Last year, American Silver Eagle sales ended at 44,006,000 for an annual record.

American Buffalo gold coins advanced 10,500 on the month compared to 22,000 in September and 21,000 in October 2014. Sales at 181,000 for the year compare to 160,500 during the same period last year.

America the Beautiful Five Ounce Silver Bullion Coins were muted with the first four issues already sold out prior to October. The next five-ounce coin launches on Nov. 30.
Below is a listing of United States Mint bullion products with the number of coins sold during varying periods. Products with an asterisk (*) are no longer available.
US Mint Bullion Sales (# of coins)
Friday Sales / This Week
Last Week
Sept Sales
Oct Sales
YTD Sales
$50 American Eagle 1 Oz Gold Coins
3,500
2,500
98,500
26,000
546,000
$25 American Eagle 1/2 Oz Gold Coins
1,000
1,000
9,000
4,000
67,000
$10 American Eagle 1/4 Oz Gold Coins
0
0
20,000
4,000
146,000
$5 American Eagle 1/10 Oz Gold Coins
5,000
10,000
175,000
50,000
880,000
$50 American Buffalo 1 Oz Gold Coins
500
1,500
22,000
10,500
181,000
$1 American Eagle 1 Oz Silver Coins
856,500
926,500
3,804,500
3,788,000
39,842,500
2015 Homestead 5 Oz Silver Coins*
–
35,000
2015 Kisatchie 5 Oz Silver Coins*
–
42,000
2015 Blue Ridge Parkway 5 Oz Silver Coins*
–
45,000
2015 Bombay Hook 5 Oz Silver Coins*
–
45,000
–
45,000