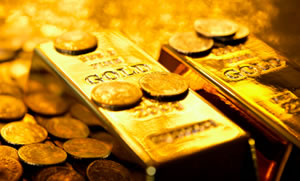 Gold prices notched their first monthly increase in four on Friday but they also marked a second straight week of losses.
On Friday, gold for August delivery added a dollar, or less than 0.1%, to settle at $1,189.80 an ounce on the Comex division of the New York Mercantile Exchange. The direction of the U.S. dollar has been the primary motivator for gold.
"Unless we see the dollar start to fall, or unless we get some huge inkling of a drastically-delayed rate hike, I think gold will continue to held at bay," MarketWatch quoted Adam Koos, president of Libertas Wealth Management Group. "Of course, there are always the global, geopolitical risks, government debt, and other black swan events that could cause a stock market crash, and this would also send gold into a bull frenzy."
Gold's weekly loss of 1.2% cut its gain in May to 0.6% and trimmed its advance on the year to 0.5%. Going forward, Kitco News offers the following forecasts via their Wall Street vs. Main Street survey:
"According to the results of the Kitco Weekly Wall Street vs Main Street Gold Survey, market professionals have a stronger upward bias. This week, out of 33 market experts contacted, 20 responded; of those, 13 participants, or 65%, see higher prices, three experts, or 15%, see lower prices and four, or 20%, are neutral on the gold market…

The results of the online survey showed a slightly narrower vote. In total 515 people voted; of those, 230 participants, or 45%, expect to see higher gold prices next week, 186 people, or 37%, expect to see lower prices and 96, or 19%, are neutral."
Elsewhere, silver for July delivery on Friday climbed 3 cents, or 0.2%, to close at $16.70 an ounce. Silver prices fell 2.1% on the week yet rallied 3.4% in May after dropping 2.7% in April. Silver remains the best precious metals performer this year, up 7.1%.
In PGM futures on Friday and for the week:
July platinum declined $4.80, or 0.4%, to $1,111.50 an ounce, sliding 3.2% on the week.

Palladium for September delivery fell $8.50, or 1.1%, to $777.10 an ounce, falling 0.9% from a week ago.
In May, platinum dropped 2.5% while palladium edged up about 0.1%. The two metals are lower on the year with platinum down 8.1% and palladium off 2.7%.
London Precious Metals Prices
London precious metals prices were mixed on Friday, for the week and for the month. First, in comparing London bullion prices from Thursday PM to Friday PM:
Gold added $6.40, or 0.5%, to $1,191.40 an ounce,
Silver shed a penny, or less than 0.1%, to $16.67 an ounce,
Platinum was unchanged at $1,115 an ounce, and
Palladium declined $1, or 0.1%, to $783 an ounce.
For the week, decliners included gold by 1.1%, silver by 3.4% and platinum by 2.4%. Conversely, palladium gained 1.8% from a week ago. In May, gainers included gold and silver each by 0.9% and palladium by 0.5%. Platinum lost 1.8% from April.
US Mint Bullion Coin Sales in May
In a rarity, United States Mint bullion sales this week were muted until gains on Friday. As for May, sales retreated for both gold and silver products. In monthly and year-ago comparisons:
American Eagle gold coins advanced 21,500 ounces in May, falling 27.1% from the 29,500 ounces sold in April and off 39.4% from the 35,500 ounces ordered during the same month last year. In year-to-date sales, Gold Eagles are at 197,000 ounces, down 9.4% from the same period in 2014 when 217,500 ounces were claimed.

American Eagle silver coins rose 2,023,500 this month, down 29% from April sales of 2,851,500 and 49.3% lower than the 3,988,500 sold a year ago May. This year's 2015 Silver Eagle sales now stand at 16,946,000 — higher than annual sales in 22 of 29 previous years. Still, in record year 2014 when Silver Eagle sales ended at 44,006,000, the coins had a much higher total of 21,436,500 through the end of May. Demand is now low enough that the U.S. Mint on Thursday said it will stop rationing Silver Eagle sales.

American Buffalo gold coins added 9,500 on the month compared to 10,000 in April and 12,500 in May of last year. Sales at 75,500 for the year are off 20.9% from the first five months in 2014 when sales reached 95,500.

America the Beautiful Five Ounce Silver Bullion Coins jumped 12,000 in May after gaining 30,000 in April. All sales came from the new Kisatchie silver coin, which launched on April 20 and sold out on May 7. The next five-ounce issue will not launch until June 22.
Below is a listing of U.S. Mint bullion products that shows the number of coins sold during varying periods. Products with an asterisk (*) are no longer available.
US Mint Bullion Sales (# of coins)
Friday / This Week
Last Week
April Sales
May Sales
YTD Sales
$50 American Eagle 1 Oz Gold Coins
4,000
6,000
23,500
13,500
136,000
$25 American Eagle 1/2 Oz Gold Coins
1,000
0
4,000
3,000
32,000
$10 American Eagle 1/4 Oz Gold Coins
4,000
0
4,000
10,000
58,000
$5 American Eagle 1/10 Oz Gold Coins
10,000
10,000
30,000
40,000
305,000
$50 American Buffalo 1 Oz Gold Coins
2,500
3,500
10,000
9,500
75,500
$1 American Eagle 1 Oz Silver Coins
375,000
590,000
2,851,500
2,023,500
16,946,000
2015 Homestead 5 Oz Silver Coins*
–
35,000
2015 Kisatchie 5 Oz Silver Coins*
–
–
30,000
12,000
42,000