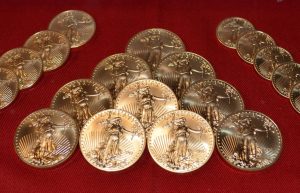 There is now an accreditation program designed to help the public learn about precious metals and avoid problems in buying or selling them.
On Tuesday, Sept. 22, the Professional Numismatists Guild announced its PNG Accredited Precious Metals Dealer program.
All PNG member-dealers must adhere to a strict code of ethics in the buying and selling of numismatic material, PNG notes. Members of the new accreditation program must also follow a 20-point code of ethics when buying and selling bullion coins and ingots. As part of the code, accredited dealers pledge to:
promptly deliver precious metals they sell unless otherwise agreed between the dealer and customer,
promptly pay for precious metals they purchase unless otherwise agreed in writing between the dealer and customer, and
furnish sound educational resources to non-professional customers on precious metals matters to the best of their abilities.
Additionally, members consent to PNG arbitration of all disputes involving the purchase, sale, or trade of numismatic or related items.
The complete code of ethics and list of PNG-APMD dealers is available online at www.pngdealers.org/apmd.
PNG officials caution that recent cases involving non-PNG dealers in California and Texas who failed to deliver gold coins ordered by customers underscore the crucial need for investors to know their precious metals dealer before buying or selling.
"If you don't know bullion coins, you'd better know your precious metals dealer," said Robert Brueggeman, PNG Executive Director.
The Professional Numismatists Guild (PNG) is a non-profit organization founded in 1954 and composed today of many of the country's top rare coin, banknote and precious metals dealers.