The United States Mint is accepting orders for its set of four bronze medals featuring Bess Truman, Mamie Eisenhower, Jacqueline Kennedy, and Lady Bird Johnson.
Medal obverses feature a portrait of the honored first lady while reverses portray a scene symbolic of her life. The designs match those that appear on this year's First Spouse Gold Coins but are sized for the larger 1 5/16-inch diameter of the bronze medals, which are made at the U.S. Mint facility in Philadelphia from 90% copper and 10% zinc.
Brief design information and U.S. Mint images of the medals follow, along with links to CoinNews articles about their companion 24-karat gold coins.
Reverse show a locomotive wheel moving along railroad tracks, symbolizing Mrs. Truman's support for her husband on his 1948 whistle stop campaign for re-election as President.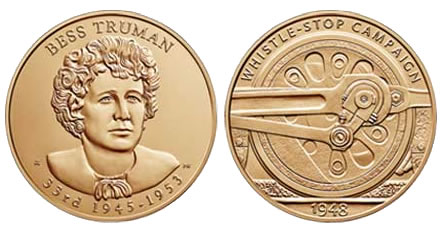 Obverse
Designer: Joel Iskowitz
Engraver: Phebe Hemphill
Reverse
Designer: Joel Iskowitz
Engraver: Charles Vickers
Reverse displays a woman's hand holding up a political campaign button with the slogan "I Like Mamie." The image is representative of Mamie' involvement in her husband's political campaigns and her popularity with the people.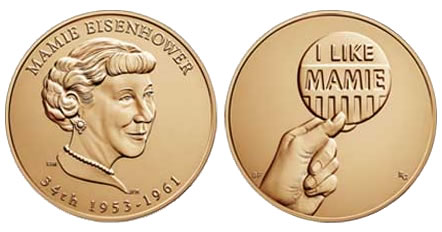 Obverse
Designer: Richard Masters
Engraver: Joseph Menna
Reverse
Designer: Barbara Fox
Engraver: Renata Gordon
Reverse presents the species of saucer magnolia Mrs. Kennedy chose to be planted in a White House garden and also near the eternal flame at her husband's grave at Arlington National Cemetery. The petals stretch across the globe, its tips connecting the points of some of her most notable diplomatic visits. The design, describes the Mint, also represents the beauty she brought into the world through her support of the arts.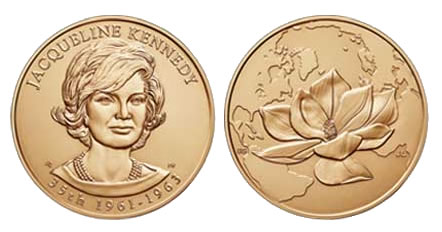 Obverse
Designer: Susan Gamble
Engraver: Phebe Hemphill
Reverse
Designer: Benjamin Sowards
Engraver: Jim Licaretz
Reverse depicts the Jefferson Memorial, Washington Monument and flowers in reference to Mrs. Johnson's efforts in the beautification and conservation of America.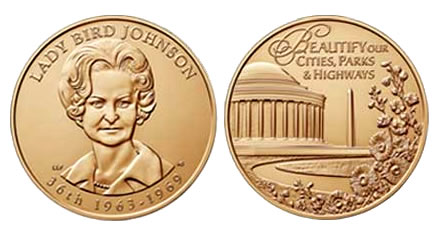 Obverse
Designer: Linda Fox
Engraver: Michael Gaudioso
Reverse
Designer: Chris Costello
Engraver: Renata Gordon
Ordering
Priced at $16.95, the four bronze medals are packaged in Mylar®, inserted into a folded card containing product information, and placed in a custom-made envelope.
2015 First Spouse Bronze Four-Medal Sets are easy to acquire straight from the United States Mint. The set's are online here. To place orders by phone, call 1-800-USA-MINT (872-6468). Up to 20,000 are authorized. There are no household ordering limits.
Sets from 2011 and 2012 are still available from the Mint, but those from 2010, 2013 and 2014 have sold out.
Update: First day sales for the 2015 First Spouse Medal Set reached 15,386.