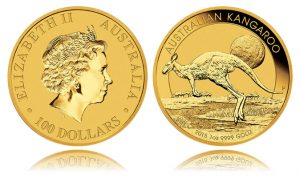 Australian sales of bullion gold and silver slowed in August compared to July and a year ago, the latest figures from the Perth Mint show, yet they ended sharply higher than in all but one of the months in the first half of 2015.
Bullion sales in August couldn't compete from those in July, when the Mint's gold sales rallied to a nine-month high and its silvers sales peaked at an eighth-month high.
As for the numbers, Perth Mint orders of gold coins and gold bars advanced 33,390 ounces last month, falling 34.6% from the 51,088 ounces delivered in July and slipping 8.2% from the 36,369 ounces sold in August 2014. For the year to date, gold sales at 253,128 ounces are down 16.3% from last year's starting eight-month total of 302,463 ounces.
Perth Mint silver coins at 746,700 ounces in July dipped 5.2% from the prior month's 746,700 ounces and fell 13.6% from the 818,856 ounces sold during the same month last year. From the January through August period, silver sales combine to 4,265,350 ounces for an 11.6% decline from the same period last year when they totaled 4,825,180 ounces.
Perth Mint Gold and Silver Sales by Month
Below is a monthly breakdown of Perth Mint bullion sales from August 2014 to August 2015.
Perth Mint Bullion Sales (in troy ounces)
Silver
Gold
August 2015
707,656
33,390
July 2015
746,700
51,088
June 2015
384,586
31,019
May 2015
337,511
21,671
April 2015
472,273
26,545
March 2015
638,557
34,260
February 2015
392,114
31,981
January 2015
585,953
23,174
December 2014
477,731
40,211
November 2014
851,836
49,904
October 2014
655,881
55,350
September 2014
756,839
68,781
August 2014
818,856
36,369
United States Mint Bullion Sales in August
U.S. Mint bullion sales in August also maintained strength, lower than the previous month but sharply higher than a year earlier.
As far as the U.S. Mint's core bullion products and Augusts go, there is no better one for American Silver Eagles and just three stronger for American Gold Eagles.
Gold Eagles at 101,500 ounces slipped 40.3% from July but soared 306% from August 2014. Silver Eagles at 5,529,000 ounces slowed 10.7% from the prior month but leapt 136.4% from a year ago.